Agriculture students turn sleuth to solve farm accident cases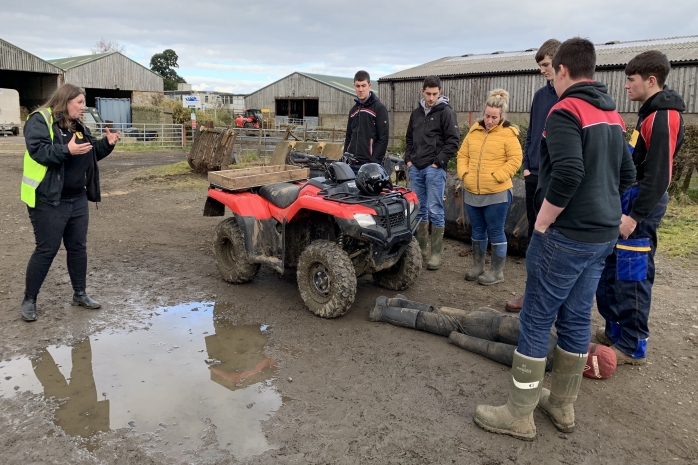 "Oatridge Agriculture students study accident scenes at a farm safety event"


Agriculture students at Scotland's Rural College (SRUC) took part in a specially-tailored farm safety event aimed at reducing accidents on farms.
The Introduction to Farm Safety training was provided by the Farm Safety Foundation, an independent charity set up by rural insurers NFU Mutual to raise awareness among the next generation of farmers.
The crime scene investigation-themed training recreated four of the most common accidents leading to deaths and injuries on farms. This included the risks associated with working with livestock, slurry, all-terrain vehicles and machinery.
Groups of students at SRUC's Oatridge campus were given 15 minutes at each 'accident scene' to work out what had happened; debate the immediate action to be taken; contemplate first aid implications; and explore what measures could be taken to prevent the accident happening in the future.
Hannah Earle-Payne, Programme Leader for Agriculture at Oatridge, said: "We are committed to ensuring our students take their physical and mental health very seriously and are here to support them every step of the way.
"Students and young farmers are such an important target group for farm safety messages as they are the future of the industry. As technology advances within farming, the risk of accidents can actually increase. While the safety of machinery and equipment has improved, the fact that machines can do so much more can make people complacent.
"It's great to have an outside organisation like the Farm Safety Foundation reinforce the importance we place on farm safety, and for our students to face scenarios they could come across on their own farms when they go home or in their future workplace."
With farming having the poorest safety record of any occupation in the UK, the Foundation aims to challenge and change attitudes to risk-taking in young farmers aged between 16 and 40, and encourage them to think about their physical and mental wellbeing, in a bid to reduce the number of life-changing and fatal accidents on farms.
Stephanie Berkeley, who manages the Farm Safety Foundation, said: "We have a unique opportunity to engage, educate and inspire the new intake of students at SRUC to adopt a positive attitude to farm safety which will guide them throughout their careers, and this is something we take very seriously.
"Many farmers are using technology, learning business skills and taking innovative steps to make their farm businesses safe, resilient and sustainable, but it is equally important for them to realise that they are the farm's greatest asset.
"Young people with a solid knowledge of safe working practices will have a greater capability to make informed and safe decisions which can only stand the industry in greater stead."
Posted by SRUC on 31/10/2019