Berry big ambitions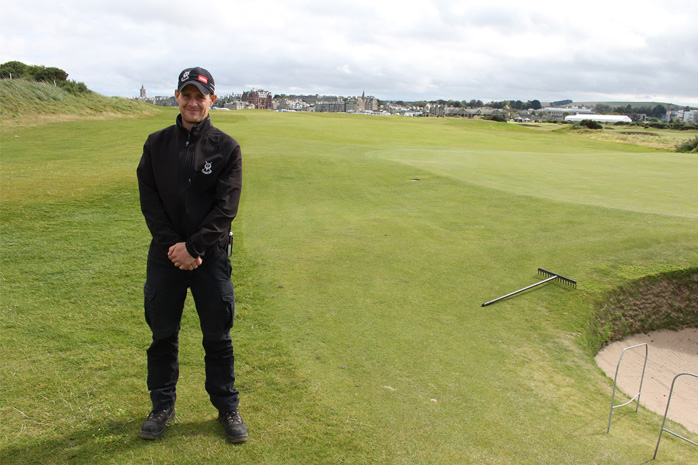 "Former Elmwood student Craig Berry is now the Old Course Supervisor"


When Craig Berry left school, his love of golf led him to study for a National Certificate in Greenkeeping at Scotland's Rural College.
Nearly two decades on, he is living the dream, working as the Old Course Supervisor for the St Andrews Links Trust and managing 22 members of staff.
However, he has one more ambition to fulfill – that of overseeing an Open Championship.
"That is without a doubt my ultimate dream," said father-of-two Craig.
While studying at SRUC's Elmwood campus, which boasts its own 18-hole golf course, Craig undertook placements at Lundin Golf Club.
He then completed an apprenticeship at Lundin Golf Club and continued his education at Elmwood through block release, gaining Levels 2 and 3 in Sports Turf Maintenance.
In 2011, he began working at Leven Links Golf course, moving to the St Andrews Links Trust Old Course three years later.
Craig rounded off his Elmwood education by completing an HNC in Golf Course Management via distance learning, and was awarded an R&A Greenkeeping Scholarship.
"Not only did the scholarship provide funding and support, but it gave me the chance to visit Askernish Golf Course, which is just stunning," he said. "R&A support also helped me network, refine my professional skills and attend future golf managers' course development."
In 2018, Craig was appointed to his current position as Old Course Supervisor at the oldest and most iconic golf course in the world.
"It is a great place," he said. "It's like second nature to me."
Craig, who has built up more than 18 years' experience in the industry, puts his achievements down to two things.
"Never get ahead of yourself; you need other people's knowledge. And secondly, let your work do the talking.
"Every day is a different day. There is the pressure to always be better than yesterday. I have a hunger for it and I use that to motivate my team.
"The high expectations on a top-end golf course are always top of the agenda for the Old Course squad. The pressures of delivering a golf course to an Open Championship standard daily, has its difficulties, but with our experience and enthusiasm, we are able to deliver and achieve this standard.
"My main aim going forward is to keep a high level of communication throughout the squad and provide consistent training, something which I have benefitted from and I see as an integral part of this industry."
SRUC Elmwood offers Greenkeeping and Golf Course Management courses. For more information visit www.sruc.ac.uk/golf
Posted by SRUC on 17/09/2019