African Turf Academy celebrates its Fife roots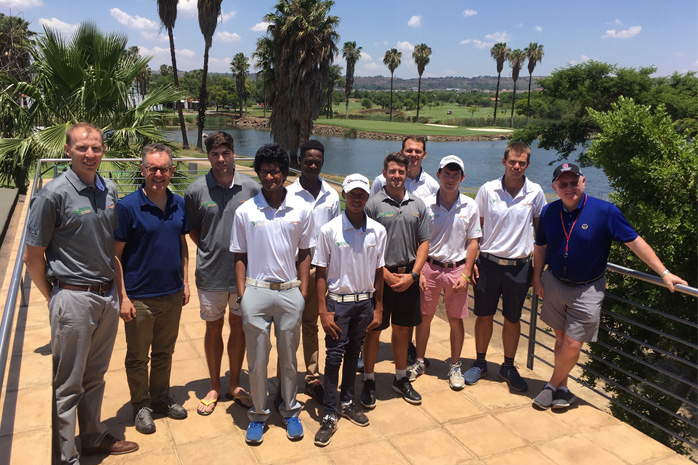 "(Left to right) Derek Daly and Paul Miller with attendees at the African Turf Academy conference"


The African Turf Academy, which was developed in partnership with Scotland's Rural College, has been celebrating its ten-fold growth at an international conference.
Paul Miller, a lecturer in Greenkeeping and Golf Course Management at SRUC's Elmwood campus in Fife, was recently invited to speak at the conference organised by the academy in Pretoria, South Africa.
The event was hosted by former Elmwood student Derek Daly and attended by some SRUC distance learning students, past and present.
The academy was founded in 2012 by Andrew McKenna after he was awarded the contract to run the Silver Lakes Golf Academy.
"I wanted to create something unique," said Andrew. "I had noticed during my professional playing days that many green keepers weren't golfers and good golfers tended to venture into the coaching aspect of golf. I wanted to change that."
After he contacted Elmwood's Golf Management lecturer Ian Butcher for advice about setting up the academy, it welcomed its first three students.
The academy was able to increase its intake to 13 students in 2015, after receiving financial support from the R&A in St Andrews and turf equipment company Ransomes Jacobsen Ltd.
It also formed a connection with Ohio State University, and was offered places to participate at the Dubai Desert Classic and the Dunhill Links tournaments, giving it a unique offering in the education and golf market in South Africa.
Next year it will have more than 30 students on the programme.
"Our connection with SRUC Elmwood is critical and Ian's assistance in the early days was invaluable," said Andrew. "Our students are highly skilled golfers with a passion for golf course management – a successful formula.
"I am looking forward to more successful students coming out of the African Turf Academy."
Henk Buitendach, from South Africa, was one of the former SRUC students attending the conference.
Henk, who studied for an HNC in Golf Course Management at SRUC over three years, said: "I chose SRUC not just because of the reputation it has in the industry, but because the information provided on the course was perfect for my next educational step in the golf industry."
Current SRUC student Tizayi Sithole, from Zimbabwe, also attended the conference.
"I worked as a farm manager, then agronomist and marketing officer in fresh produce," he said. "After that, I fell in love with turf management and landscaping, and this is when I discovered the marginal gap in training and skills development in greenkeeping in my country.
"I heard about Elmwood through the R&A website, when I was looking for educational opportunities in greenkeeping. In 2017 I was enrolled at Elmwood and awarded the R&A scholarship. I will forever be grateful for this opportunity."
Posted by SRUC on 25/11/2019