Caring at Craibstone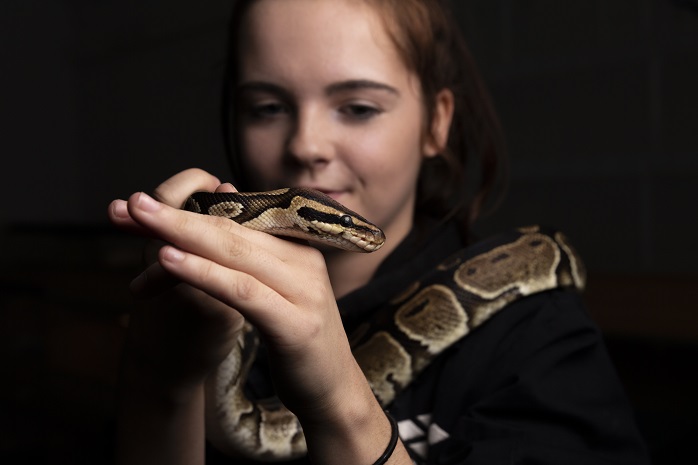 "SRUC Animal Care student Steph Sim with Molly the snake. Picture: Ross Johnston/Newsline Media"


Students and animals at SRUC in Aberdeen are celebrating the opening of a new £350,000 home for creatures – great and small – ahead of World Animal Day tomorrow (4 October).
At the new animal care unit on SRUC's Craibstone campus, students will interact with a variety of different species and dozens of different animals. Animals include tropical fish, tortoises, small mammals, reptiles and snakes, and ponies.
The unit has room for new habitats and more space for students to gain hands-on experience in animal care. SRUC also has dog grooming facilities and a new space for ponies will be created.
Animal Care is one the most popular courses offered by SRUC in Aberdeen and the new facility will help attract more students and create new courses and pathways to students to progress into work or study.
Students were welcomed to the building on the Mill of Craibstone a couple of weeks ago and it brings the building back into full-time use for students and staff. SRUC is looking at options to further expand the site in the future to offer new courses for students.
Programme Team Leader Heidi Douglas said: "Our new animal care facilities have really improved the learning experience for students, and they love having more room to get hands on with the animals.
"Our animal care unit is part of the community here in Aberdeenshire. We're always delighted to hear from schools, businesses and other local groups who want to learn more about animal care here at SRUC or who can partner with us to offer opportunities for students."
SRUC offers courses in animal care from National Certificate to HND level. Students studying Veterinary Nursing will also be using the new facilities. Animal Care is the most popular topic of study at Craibstone and attracts students with a passion for the care and welfare of animals.
The investment is part of SRUC's vision to become a 21st-century rural enterprise university, with a strong regional footprint across the country. Part of the funding for the refurbishment comes from the Scottish Funding Council.
Posted by SRUC on 03/10/2019