Aberdeenshire graduate lands dream job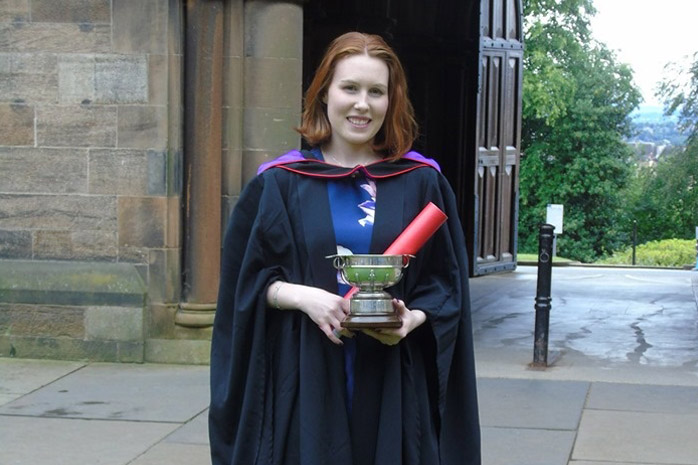 "Rebecca Bradley at SRUC's graduation ceremony in Glasgow"
Aberdeenshire graduate Rebecca Bradley has landed on her feet after walking into a job as a trainee rural surveyor.
The 22-year-old from Gartly graduated from Scotland's Rural College with a first-class honours degree in Rural Business Management.
She was also awarded the Royal Institution of Chartered Surveyors (RICS) Prize with Accreditation, and the William J Ferguson Quaich, for best fourth year student in her subject.
Rebecca, who grew up on a mixed livestock and arable farm, is now working as a trainee rural surveyor with Bowlts Chartered Surveyors.
"It's the job I've always wanted and the Rural Business Management with RICS course has allowed me to do this," she said.
She brings plenty of experience from helping with lambing and the sheep on the family farm to the job.
"I am an outdoors person and have a love for Scotland," she said. "From a young age I have also gone pheasant beating during the winter months and grouse beating during the summer where I have met a lot of people within the sporting industry and gained a lot of practical experience.
"I am an active member of Garioch Young Farmers and take part in a variety of events including industrial, stock judging, valuations and sports. This has, over the years, helped to build my knowledge and contacts within the agricultural industry and see other farmers' approaches to their enterprises."
Rebecca chose to study at SRUC's Craibstone campus in Aberdeen because of its rural focus and the opportunities for practical industry visits and experience.
She also liked the small campus where everyone knows each other and the staff have an open-doors policy.
As part of her studies, she took part in a study tour to Milan, where she visited small rural Italian businesses making Parmesan cheese, Parma ham, wine and vinegar.
She also won the Royal Northern Agricultural Society student award which included a trip to France for the Paris International Agricultural Show.
In addition she did work experience with independent property consultancy Bidwells.
Posted by SRUC on 16/07/2019