California dreamin'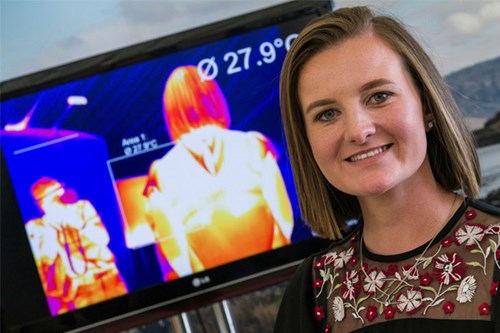 "Jennifer Hart"
California is famously the home of Silicon Valley, but a young woman from the Sunshine State's tiny Scottish namesake is making a technological impact of her own.
Jennifer Hart, from the village of California in Stirlingshire, has achieved a first-class honours degree in Applied Animal Science from Scotland's Rural College.
And as part of her award-winning thesis, the 23-year-old conducted the world's first study into whether 'deep learning' – a form of artificial intelligence used by the likes of Google and Facebook – could be used to conformation score the udders of dairy goats.
She was able to show the method could produce an accurate and repeatable prediction model to aid dairy goat farmers in their breeding selections.
In addition to her degree, the former pupil of Braes High School in Falkirk was awarded the R Stewart McDougall Prize for Best Honours Dissertation in Applied Animal Science and the Royal Society of Biology Prize for best student in a Biological Science, as well as being awarded the SRUC Trust Prize for best fourth year student.
"It all feels like a bit of a dream," she said. "When I first opened my results online, I had to log out and log back in, just to double check it was actually mine! I've had an amazing time at SRUC. As well as working alongside world-leading livestock scientists, one of the most rewarding things is that fact that my research could actually benefit the industry."
Professor Mike Coffey from SRUC, who supervised Jennifer's thesis, said: "I'd like to congratulate Jennifer on her outstanding success. Aside from investigating a very new area of research and using state-of-the-art deep learning, Jennifer was an outstanding student to work with. She was very focussed, organised and committed which was subsequently reflected in her scores. I'm extremely proud to have worked with her."
Asked what she planned to do now that her studies are complete, Jennifer said: "Time will tell but I'm still considering continuing my studies and doing a PhD. As I keep being told: 'what's for you won't go by you.'"
Posted by SRUC on 08/07/2019