Thin ewes – what's the cause?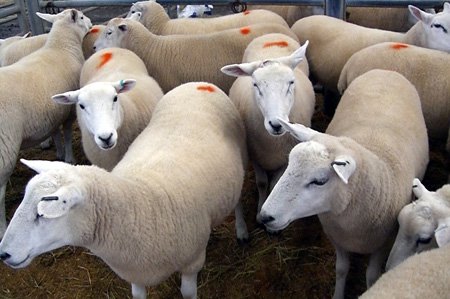 It's important to monitor thin ewes in the run up to tupping season.
In the run up to the main tupping season checking ewe body condition score (BCS) and considering the impact that disease may be having on it is an important part of flock health planning.
advice from Quality Meat Scotland (QMS) has suggested that for ewes below BCS 3 it is possible for them to increase body condition by a whole score in eight weeks
this is equivalent to between 100 and 150 g / day liveweight gain
this is conditional on them being provided with the best quality grass at a minimum height of 4cm
one of the main reasons for them not achieving this weight gain under such conditions may be disease
therefore, grazing lean ewes in this way and assessing their response to improved nutrition is a useful first screening test to assess likely disease risk
For a simple guide to ewe body condition scoring have a look at this YouTube video.
Another key question to consider is: Are the thin ewes an individual, small group or large group problem?
The principal diagnoses are as follows:
Individual problems: Neoplasia, arthritis, endocarditis, scrapie, chronic pneumonia, CLA
Small group problems: Poor dentition, Johne's disease, OPA, Maedi Visna, PGE
Large group problems: Inadequate nutrition, liver fluke, sheep scab, foot rot and CODD
Some of these conditions are best assessed through accurate history taking and clinical observation on farm however, for many conditions post mortem would be the best way to reach a diagnosis.
We would suggest that submitting representative thin ewes that are fit to travel, but not fit for sale, for euthanasia and post mortem may be the most effective way of reaching a diagnosis across the range of possible differentials.
The batch rate for post mortems is a very cost effective way of making a diagnosis.
We have reported findings from these investigations in hill ewes in Dumfries and Galloway before but the summary below may be useful. We continue to examine such cases year on year.
 41 ewes examined at post mortem in 2017-18
chronic parasitism based on histopathological examination of intestine and total worm counts was a common finding
all ewes were screened for Johne's disease and Maedi Visna with negative results
no evidence of copper, cobalt or selenium deficiency was detected on liver analysis
in the majority of cases fasciolosis was well controlled and not the significant problem
 Our key findings are reported below: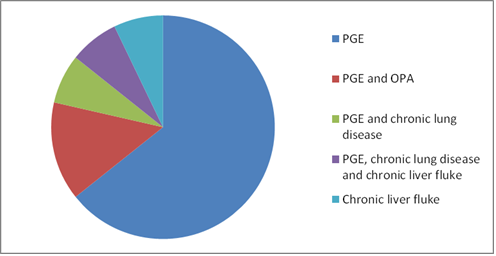 Key findings from Veterinary Services show proportion of disease in thin ewes.
In addition APHA have recently published the results of their 2020-21 thin ewe survey and summary.
Posted by SRUC Veterinary Services on 16/09/2021