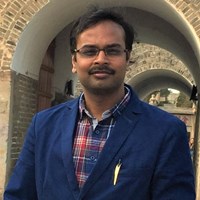 Hi I'm
Vijai Gupta
Position: SRUC Senior Challenge Research Fellow
Expertise:

Agriculture, Crops and Soils
Energy
Food and Drink
Technology
I hold a doctoral degree in Microbiology, and I am currently working as SRUC Senior Challenge Research Fellow at the Centre for Safe and Improved Foods & Biorefining and the Advanced Materials Research Centre, SRUC.
My work is focused on microbial engineering biotechnologies and bioprocess technologies, as well as functional microbiome interactions, biomass to biorefineries towards sustainable product development, and bioprospecting of bioresources. As an SRUC Senior Challenge Research Fellow I aim to develop technologies to valorise available bioresources and their potential to address the key challenges in agri-food-pharma-energy and relevant sectors.
I am Membership Secretary of the European Mycological Association and also Visiting Professor of the Institute of Food Science and Technology in China, South China Botanical Garden, University of Science & Technology Meghalaya in India, and Szent István University in Hungary.
I am also Fellow of the Linnean Society in the UK, Fellow of the Mycological Society of India, Fellow of the Indian Mycological Association, Fellow of the Academy of Microbiological Sciences India, Fellow of National Academy of Agricultural Sciences India, Associate Fellow of the National Academy of Biological Sciences India, and Member of the Royal Society of Biology in the UK.
I have established intense international research and academic collaborations. I have published 33 book chapters, 39 books, 198 peer-reviewed publications and have author h-index 51. I am also the editor of a few well-reputed international journals, including Nature Scientific Reports, BMC Microbiome, Critical Reviews in Biotechnology, Biotechnology Advances, Microbial Cell Factories and Mycosphere.
Areas of expertise and interests
Agriculture, Crops and Soils
Energy
Food and Drink
Technology
I'm currently working on
bioprocessing technologies for the production of value-added biochemicals and fuels
protein and enzyme engineering and biochemistry of thermophilic and mesophilic microbial systems
microbial production of natural products, and fungal mycelium-based biodesigns and biocomposites
extraction of added-value bioproducts from biomass feedstocks
Additional links
Find out more about our research services