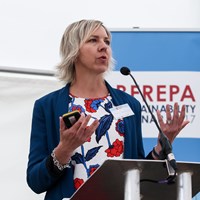 Hi I'm
Dr Vicky Sandilands
Position: Senior Behaviour and Welfare Scientist
Location: South East Scotland
Expertise:

Agriculture, Crops and Soils
Livestock and Fishing
I am a poultry behaviour and welfare scientist, whose focus is examining the housing and management of poultry (particularly laying hens) and how those affect their welfare.
Laying hens are the workhorses of agriculture, laying almost an egg a day, so I feel strongly that it is our responsibility to manage them in ways that is sensitive to their needs and wellbeing, while acknowledging their important place as a nutritious food source to people around the world.
I have worked in the past on studies looking at broiler breeder feeding behaviour, broiler leg health and lameness, behaviour and welfare of hens in enriched cages, laying hen welfare at depopulation, perching behaviour in laying hens and importance in keel bone damage.
A large part of my work is also in teaching – I am the director of a jointly run MSc in Applied Poultry Science with SRUC and the University of Edinburgh. Almost all of our students work in the poultry industry, and they provide some invaluable insights into the poultry world. I also run SRUC's HNC in poultry production, which is a mixture of people wanting to know more about poultry and those already working with them. 
Areas of expertise and interests
Agriculture, Crops and Soils
Livestock and Fishing
I'm currently working on
how different scratch mat designs affect hen behaviour in enriched cages
how different enrichments for free range hens encourage foraging behaviour
sleep behaviour in laying hens
the possibility of selecting hens for naturally-occurring beak shapes that reduce the damage done by feather pecking
My professional highlights
having been president of the world's largest animal behaviour & welfare society, the International Society for Applied Ethology, and the president of World's Poultry Science Association – UK branch
having been an invited speaker at universities, poultry industry, and poultry
societies around the world, including South Africa, Canada, and France
Find out more about our research services