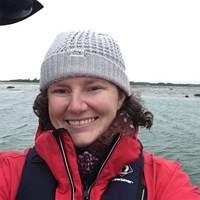 Hi I'm
Dr Sarah Marley
Position: Lecturer
Location: Craibstone Campus
Expertise:

Climate, Environment and Wildlife
I am an Ecologist focusing on animal behaviour, bioacoustics and human impacts. My research has primarily focused on marine megafauna, such as whales, dolphins, seals, turtles and seabirds. However, I have a wide range of ecological interests, regardless of species or habitat. I am also very interested in citizen science, science communication and public engagement.
Originally from Scotland, I completed a BSc (Hons) Zoology at the University of Aberdeen followed by an MRes Marine Mammal Science at the University of St Andrews. In 2010 I travelled to Australia to work on various marine mammal research projects "for a few months" – which turned into eight years!
During my time in Australia I completed a PhD in Marine Bioacoustics with the Centre for Marine Science and Technology at Curtin University. My doctoral thesis examined coastal dolphins and noisy environments. Following my PhD, I worked on research projects studying marine megafauna, anthropogenic disturbance and animal movement. I also gained industry experience as an environmental consultant working on marine impact assessments in both Australia and South-East Asia.
I returned to the UK in 2018 to work as a Lecturer in Marine Biology at the University of Portsmouth, and I simultaneously completed my PGCert Higher Education. In Sept 2021 I moved back north to join SRUC Aberdeen as a Lecturer in Ecology.
In addition to conducting research, I have also spent several years working as a science communicator and educator. I am a strong supporter of public engagement and citizen science.
Areas of expertise and interests
Climate, Environment and Wildlife
I'm currently working on
visual and acoustic monitoring of marine mammal populations
developing mitigation strategies for whale ship-strike
impacts of human disturbance on marine mammal behaviour
improving the sustainability of marine tourism activities
describing underwater soundscapes
applying artificial intelligence to the classification of underwater sounds
My professional highlights
Associate Editor for the academic journal Methods in Ecology & Evolution
Grant Reviewer for the British Ecological Society (BES)
committee member of the BES Quantitative Ecology Special Interest Group
member of the Operational Team for MegaMove, a collaboration of over 450 movement ecologists working on more than 120 marine species around the world
former National Councillor for the Australian Marine Science Association
winner of the 3-Minute-Thesis (3MT) competition in the Asia-Pacific region
Additional links
Find out more about our research services