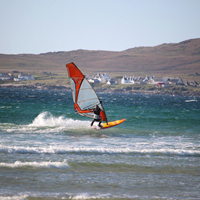 Hi I'm
Dr Robin Walker
Position: Programme Team Leader
Location: Craibstone Campus
Expertise:

Agriculture, Crops and Soils
Climate, Environment and Wildlife
Energy
Natural Economy
I have had a long-term personal interest in the environment and an academic focus for over 25 years that has been trying to improve the sustainability of agricultural systems, predominantly in Scotland.
I have a particular interest in targeting management approaches that can maintain agricultural productivity and product quality, but allow reductions in energy use and inputs when managing soils and crops, while still benefitting the system (and the planet) as a whole.
Developing efficient management approaches that directly and indirectly reduce the emissions of greenhouse gases is a key aim. Some of my work involves taking viable approaches used in organic farming, such as the use of legumes, home grown protein crops, cover crops and rotations with targeted functions and finding ways to integrate them into more conventional systems. Particularly over the last five years there has been a lot more interest amongst farmers in long-term soil health, as well as feed and food security.
It is all too easy to focus on small areas of a production system, so I try and take a holistic overview that recognises that small changes to the management of these systems can result in a chain of anticipated and unanticipated knock on effects at various scales that can be positive or negative in terms of the environment. A clear aim is to maximise the positive aspects and minimise the negative ones, leading to an overall positive global benefit.
In my spare time, I am an avid windsurfer, stand-up paddle boarder (SUP) and surfer, and have been a qualified instructor for many of years. These have been used to good effect when helping run a local kids windsurf and SUP club based in my home village of Newburgh. When not on the water, I'm not too shabby in the kitchen and regularly knock up a broad range of tasty meals and bread for family and friends.
Areas of expertise and interests
Agriculture, Crops and Soils
Climate, Environment and Wildlife
Energy
Natural Economy
I'm currently working on
crop diversity within agricultural systems
approaches to improve/retain soil carbon
systems targeted towards the production of home-grown protein
ways to improve the integration of arable and livestock systems
Additional links
Find out more about our research services