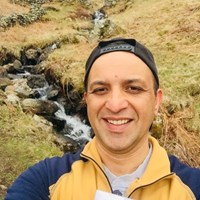 Hi I'm
Dr Rajiv Sharma
Position: Bioinformatician Fellow
Location: Edinburgh Campus
Expertise:

Agriculture, Crops and Soils
I am a Postdoctoral Researcher in Plant Genetics at SRUC. My research interests include plant domestication, diversity, and population genetics. Recently, I've been working on creating multi-parental mapping populations in cereals. My research focus is on adopting new statistical methods for understanding crop diversity.
Before I joined SRUC I was a Postdoctoral Researcher at the University of Dundee. I obtained my PhD from the Leibniz Institute of Plant Genetics and Crop Plant Research (IPK) in Gatersleben, Germany.
In my spare time I like marathon running and cycling.
Areas of expertise and interests
Agriculture, Crops and Soils
I'm currently working on
MAGIC (multiparent advanced generation intercross) population development in barley
speed-breeding
Additional links
Find out more about our research services