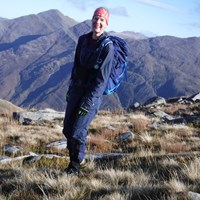 Hi I'm
Nicola Holden
Position: Professor in Food Safety
Location: North East Scotland
I am a molecular bacteriologist, starting out my PhD with the foodborne pathogen Salmonella enterica, to understand how it survives and responds to refrigeration temperatures. My post-docs were on related bacteria, Escherichia coli that cause different types of disease in people.
In 2007, I took up an independent position at the James Hutton institute, working with the same pathogens, but this time in the context of horticultural crops. The timing coincided with large-scale outbreaks of foodborne disease that were associated with fresh fruits and vegetables. It was a novel area to the institute and my role involved building up the research base to determine the public health risk from contaminated fresh produce.
The role provided a much deeper appreciation of microbes associated with plants and soil and expanded the work to include other pathogens and plant-associated microbes. Aligning the work with stakeholders in public health and primary production ensured relevance and helped to address pressing problems.
In 2020, I took up a new position with SRUC to develop the area of food safety. This is made possible by the broad expertise already present at SRUC, and will be taken forward by working in partnership with stakeholders in primary production and food production.
The best thing about being in academic research is seeing the development of people at different stages of their career: there is a special pleasure in seeing people bringing projects to fruitful completion as part of their own career development, or as part of an established team.
I spend my free time enjoying Scotland's beautiful outdoors, whether on top of the hills or at the seaside. I live in the heart of Scotland's 'fruit basket', surrounded by soft fruit and arable farms, set in wide fertile valleys bounded by rolling hills.
I'm currently working on
E. coli O157:H7 on horticultural produce
mapping the microbial communities associated with major UK crop species
My professional highlights
being able to show the mechanistic basis for how foodborne bacterial pathogens interact with crop plants, and use them as alternative hosts
working directly with industry/policy partners and seeing that our research has helped to answer their questions
Find out more about our research services