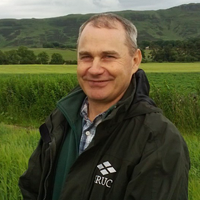 Hi I'm
Dr Neil Havis
Position: Senior Plant Pathologist
I am a plant pathologist in the Agriculture, Horticulture and Engineering Sciences Department, based at King's Buildings, Edinburgh.
I started my academic journey at the West of Scotland Agricultural College in the mid 1980's studying agriculture. From that starting point, my interests focussed first on crop production and then later at plant pathology. I was fortunate enough to be able to undertake a PhD at Auchincruive.
From then on I have been involved in a number of research projects during my career, but the one ever present over the last twenty years has been a small fungus, Ramularia collo-cygni, that has a strange relationship with many grass hosts and in particular, barley.
This fungus continues to throw up surprises and questions and is best described as an enigma, wrapped in a mystery, shrouded in puzzle. Researching this pathogen encapsulates the beauty and fun and also and the frustrations of science. One answered question produces two new ones.
I am also interested in finding new ways to control diseases that attack our crops and threaten the food supplies that current and future generations will rely on. I continue to do research, supervise students and deliver lectures and classes to students and people undertaking BASIS courses.
I've been fortunate enough to meet and collaborate with researchers from all round the world and feeling that spirit of co-operation and respect is one of the best parts of my job.
Away from work I like to spend time with family and with three happy, healthy and active grandchildren I feel truly blessed. Of course my favourite football team also fulfilled one of my life's ambition in 2016 by winning the Scottish Cup so I am truly grateful I was able to see that and enjoy the day.
I'm currently working on
new and emerging diseases
Ramularia control
integrated disease control programmes
Fusarium head blight and mycotoxin levels in Scottish crops
My professional highlights
speaking at barley meetings in South America
joining the international organising committee of the Barley Leaf Diseases Workshop
joining the organising committee of Crop Production in Northern Britain
Additional links
Find out more about our research services