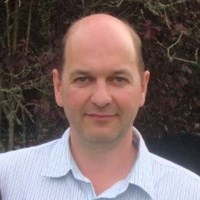 Hi I'm
Mike Hutchings
Position: Head of Animal and Veterinary Sciences
I am Head of Animal and Veterinary Sciences in the Central Faculty and lead the Disease Systems research team. I previously led the Scottish Government's Strategic Research Programme, 'Productive and sustainable land management and rural economies' Theme 2.
I have a background in ecology and developed my disease systems approach through a Scottish Senior Research fellowship. My main areas of research are identifying, characterising and quantifying the key biological processes that drive disease persistence and spread in livestock production; in particular those that are sensitive to manipulation for the purpose of disease control.
My research aims to provide a detailed understanding of the biology driving disease dynamics and explores how the biology scales up from individuals to populations. It explains how this interacts with agricultural management practices to determine the patterns of infection seen in host communities and the efficacy of disease control strategies.
My research focusses on the influence of biological processes, such as host behaviour, physiology, ecology, as well as environmental and animal management practices like husbandry, nutrition, livestock trade. The systems approach offers a way to frame disease challenges and problem solve disease risk at a range of scales, for example from veterinarians tackling specific on farm disease challenges to the global challenges of climate change, food security and antimicrobial resistance.
I'm currently working on
nutrition x Parasite interactions
early detection of disease using animal behaviour
role of wildlife in the epidemiology of livestock disease
climate change: animal health contributions and consequences
population dynamics of antimicrobial resistance genes in livestock production systems
development and testing of operational disease control strategies (Parasites, ParaTB, Bovine TB)
Find out more about our research services