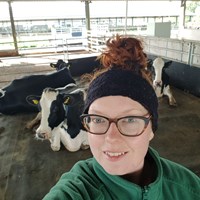 Hi I'm
Dr Laura Shewbridge Carter
Position: Research Associate
Location: Barony Campus
Expertise:

Agriculture, Crops and Soils
Climate, Environment and Wildlife
Livestock and Fishing
I am a researcher with the Dairy Research and Innovation Centre at SRUC. My research background is in animal behaviour and welfare, where I study and use animal behaviour to measure the welfare and well-being of animals.
My love for animals brought me to study Zoology as an undergraduate in Dublin, where I developed a particular interest in animal behaviour. I went on to do an MSc in animal behaviour and welfare in Edinburgh, which led to me to a PhD I carried out between Harper Adams University and SRUC. It was at this point I fell in love with cows! As I was finishing my PhD, the opportunity arose to work with the SRUC team I had the pleasure of knowing while working on my PhD there, and the rest, they say, is history!
My day-to-day work can differ hugely depending on the different projects I'm working on. Some days can be filled with data handling, reading research papers, and writing papers, reports, or proposal. But the best days are when I get to go out on farm and am surrounded by cows! Collecting behavioural data is often hands on, timely work which requires careful planning and consideration and is a hugely collaborative process with farm and technical staff. A lot of work must happen before I even get in among cows and start collecting data, which makes it all the more worth while once I do.
Outside of work, I enjoy being outdoors, going on hikes and sea swimming, particularly when I get home to Ireland, as well as being creative on different at home art projects.     
Areas of expertise and interests
Agriculture, Crops and Soils
Climate, Environment and Wildlife
Livestock and Fishing
I'm currently working on
automated approaches to measure animal welfare
dairy cow resilience in the Langhill herd
cattle welfare within UK cattle housing systems
effects of heat stress on dairy cows when housed and at pasture
My professional highlights
Final Year Presentation Winner – Agriculture and Horticulture Development Board (AHDB) Livestock PhD Conference, 2020
Presentation Winner – International Society for Applied Ethology (ISAE) UK and Ireland Regional Meeting, 2020
Researcher Showcase Finalist – Dairy Cattle Welfare Council (DCWC) virtual conference, 2021
Filming for BBC Landward on dairy cow behaviour and the use of QBA and PFL for welfare monitoring
Find out more about our services