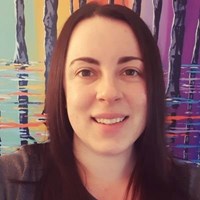 Hi I'm
Dr. Jolinda Pollock
Position: Higher Laboratory Scientist
Location: Central Scotland
Expertise:

Agriculture, Crops and Soils
Livestock and Fishing
I am a veterinary microbiologist with 16 years of experience working in both diagnostics and research.  I currently manage the Microbiology department at Pentland Science Park, and we carry out comprehensive diagnostics for farm and companion animals, and national veterinary disease surveillance for the Scottish Government.  Our team is also involved with education, with specific focus on laboratory training for apprentices and veterinary medicine students, and research projects.  We predominantly carry out analyses of important veterinary bacterial pathogens, with particular focus on epidemiology, virulence, zoonotic potential and antimicrobial resistance.
Whilst out of the office, you will likely find me outdoors (either up a hill, lost in the woods or on a beach) with my Staffie cross, Theo.
Areas of expertise and interests
Agriculture, Crops and Soils
Livestock and Fishing
I'm currently working on
I act as an advisor for several projects led by our research colleagues, as well as leading research projects and managing commercial projects at SRUC Veterinary Services. 
Examining strain differences among Listeria monocytogenesand Listeria ivanovii and assessing genetic diversity against that of isolates from human cases of listeriosis.
Epidemiology ofKlebsiella mastitis isolates in dairy cattle.
Atypical Escherichia colisepticaemia and meningitis cases in 3-6 month old dairy calves.
Milk microbiota in dairy cattle under different drying off protocols
Antimicrobial resistance at the human-animal interface in Uganda.
Antimicrobial resistance dynamics on a British commercial pig farm.
Gut microbiota dynamics in weaner pigs.
Find out more about our research services