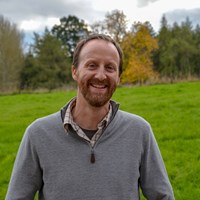 Hi I'm
John Farquhar
Position: Senior Renewables Consultant
Location: South East Scotland
Expertise:

Climate, Environment and Wildlife
Technology
Energy
I have broad expertise and interest in mechanical engineering, sustainability, life cycle assessment and renewable energy. My work focuses on technical support and design work for clients involved with renewable energy and energy recovery.
I received a degree in Botany from UEA in 1997, initiating my work in forestry and forest resources. Starting as a forestry contractor as a holiday job, then after university working as a botanist on tropical forest conservation projects. In 2000 I  had my first full woodfuel job working on SRC research for the Forestry Commission. 2006 saw me move to a woodfuel technical advisory role for RDI in the north east, covering advice and training in fuel supply chains and installations.
In 2012 I moved to SAC Consulting as Senior Renewables Consultant, where I work on technical design and support for a wide range of renewable energy and efficiency projects, and systems modelling for carbon optimisation of various processes.
Areas of expertise and interests
Climate, Environment and Wildlife
Technology
Energy
I'm currently working on
methane mitigation systems for the beef sector
3MW heat pump drying system design
hydrogen feasibility at the farm scale
carbon assessments for Scottish peatland uses
CARES funded renewable feasibility study
My professional highlights
technical lead on the Innovate UK - Enerwater project, researching energy recovery from dairy processing refrigeration plant
designer of the simplified GHG calculator for the RHI Biomass Suppliers List (BSL)
lead trainer for the Pan-European woodfuel supply chain training programme
WETNet, lead trainer on the ignite suite of woodfuel training
feasibility, design, support and technical advice for over 70 successful renewables
installations, totalling over 30MW
support of fuel supply contracts of over 4,500 tonnes of woodfuel a year
Additional links
Find out more about our consulting services