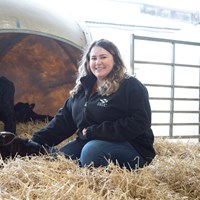 Hi I'm
Dr Holly Ferguson
Position: Research Associate
Location: Barony Campus
Expertise:

Agriculture, Crops and Soils
Climate, Environment and Wildlife
Livestock and Fishing
Technology
I am a Precision Dairying Scientist, based at SRUC's Dairy Research and Innovation Centre in Dumfries. I have loved cows since I was a child (showing Highland cows competitively!), which led me to study Highland cattle genetics during my undergraduate degree, in Zoology. This led to my PhD at University of Glasgow in ruminant health and nutrition, with a focus on acidosis.
I joined SRUC in 2018, and since then have been involved in a wide range of projects with national and international colleagues. Much of my work focuses on the use of precision livestock farming tools, such as animal-mounted sensors, for monitoring and improving animal health, welfare and production and innovative dairying systems, like cow-with-calf. I'm also interested in the ruminant microbiome, exploring this in cattle and sheep during my PhD. My other interests include use of sensors for monitoring positive welfare in cattle – can we tell how happy a coo is? I also really enjoy the KE aspect of projects, getting research out there to farmers and industry, and making a difference.
When not at work, you can find me out exploring with my golden retriever, Hudson, or doing something creative whilst listening to music. I love folk music and sit on the committee of the Orkney Folk Festival – you'll find me there every May!
Areas of expertise and interests
Agriculture, Crops and Soils
Climate, Environment and Wildlife
Livestock and Fishing
Technology
I'm currently working on
understanding more about the microbiome of cows and how it develops from calves through to adulthood.
the bacterial and fungal profile of cow milk, with a focus on mastitis.
use of precision technologies for monitoring cow welfare in an automated way
use of precision technologies to reduce emissions of livestock production systems.
commercial feed trials.
My professional highlights
Member of the SRUC Animal Experiments Committee
Award for the first completed Hannah Dairy Research Foundation funded PhD
Trained in Intro to BSL to help reach more people
Appearing on BBC Landward, FAS Tv, and various podcasts to discuss research outputs
Additional links
Find out more about our services