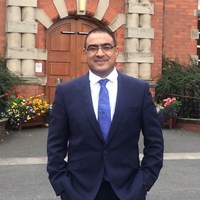 Hi I'm
Dr Hadi Aliki
Position: Senior Lecturer and VF Manager
Location: Edinburgh Campus
Expertise:

Agriculture, Crops and Soils
After completing my Ph.D. in Weeds Management at Harper Adams University in 2016, I worked as a Trials Researcher for The Crop and Environment Research Centre (CERC) at Harper Adams Uni, which is ORETO registered for testing pesticides for registration purposes and following the EPPO guidelines and protocols, and this allowed me to gain experience on experimental design and conduct trials on a wide range of crops and chemicals and makes me able to supply the clients with highest accredited tests and trials to support product development and registration of new agrichemical products that claim plant/produce protection or nutrition including Pesticides, Fertilisers, and Biostimulants.
In 2021 I moved to MOA, as a glasshouse trials manager focusing on using new technology, following nature's lead, to discover and develop new weed control strategies and chemistries that will enable farmers to increase and sustain high-quality food production while reducing the impact on the environment.
In 2023 I moved to SRUC as a senior lecturer and VF manager at SRUC, and I am doing some teaching and involved in some research projects. I have a particular interest in weed management, weed biology, plant protection, plant allelopathy, plant physiology, and plant nutrition.
In my spare time, I like cooking.
Areas of expertise and interests
Agriculture, Crops and Soils
I'm currently working on
I'm currently working on Disruptive Farming for Nutritional and Sustainable Food Production project.
Find out more about our research services