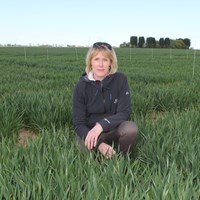 Hi I'm
Prof Fiona Burnett
Position: Head of Knowledge and Impact
Location: South East Scotland
Expertise:

Agriculture, Crops and Soils
I am Professor of Applied Plant Pathology and Head of Knowledge Exchange and Impact at SRUC. My expertise covers most aspects of applied plant health and I play an active role in the advice and diagnoses offered in SRUC's crop clinic, and the crop health monitoring schemes in Scotland.
I have particular research interests in Integrated Pest Management and pesticide stewardship. Fungicide resistance and efficacy are core activities for my research team and I chair the Fungicide Resistance Action Group–UK, which produces advice and recommendations to manage emerging resistance issues.
The steering groups, boards and committees I contribute to are extensive and include the UK Plant Health Forum (Defra), the Scottish Voluntary Initiative and the British Crop Protection Council's Diseases Working Group. I chair the Association for Crop Protection in Northern Britain and I am a Director of Scottish Quality Farm Assured Cereals Ltd. I am also a Fellow of the Royal Society of Biology. I am Agriculture Sector Lead in the directorate for Scotland's Plant Health Centre of Expertise.
Areas of expertise and interests
Agriculture, Crops and Soils
I'm currently working on
integrated pest management to optimise the sustainability of arable production
technologies drive impact arising from research
sustainable and safe use of pesticides
plant health key principles
My professional highlights
Sector lead for Agriculture in Scotland's Plant Health Sector
Chair of Fungicide Resistance Action Group UK
Director of Scottish Quality Crops
Chair Association Crop Protection Northern Britain
Find out more about our research services