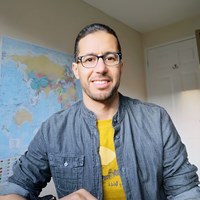 Hi I'm
Faical Akaichi
Position: Research Economist/MSc Food Security Deputy Programme Director
Location: Edinburgh Campus
I am an applied economist with specialisation in behavioural economics, food marketing and econometrics. My research aims to further the understanding of individuals' behaviour and its determining factors, and how policy can best make use of this understanding to promote more sustainable, ethical and healthier food production and consumption.
Whereas some of my work encompasses qualitative methods, the main thrust has been towards quantitative modelling such as choice and econometric modelling. Since I joined SRUC in 2012, I have been working on a variety of relevant topics, including food marketing, the demand for and valuation of more sustainable private and public goods and services and improving food security and nutrition in developing countries.
I have also researched healthy food choices and their determining factors, as well as valuation of the effect of policy interventions to tackle overnutrition. Another interest of mine are welfare economics, especially farmers' and consumers' preferences and willingness to pay for the use of animal-friendly husbandry practices.
Find out more about our research services