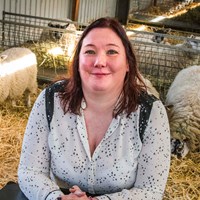 Hi I'm
Professor Eileen Wall
Position: Head of Research
As a Professor in Integrative Livestock Genetics, my area of expertise is in livestock genetics and breeding tools for the agricultural community. With a focus on UK dairy cattle, I have made significant contributions to the field, leading to impacts in genetic improvement tools delivered and home and abroad. My research revolves around key areas such as climate change and livestock systems, genetics of fitness traits, sustainable breeding goals, and advancements in national livestock genetic evaluations. I also play a crucial role in interdisciplinary programs within and outside SRUC, fostering collaborations and partnerships for impactful research.
As the Head of Research at SRUC my main objective is to drive excellence in research and develop and deliver the research strategy. Throughout my career, I have secured substantial funding, managed large research programs, and designed, developed and delivered strategic research projects within SRUC and wider academic sector. I am actively engaged in research, research supervision and teaching activities at SRUC.
My contributions extend beyond SRUC. I have actively participated in policy development, particularly in addressing greenhouse gas emissions in agriculture. By providing expert advice and consultancy to national and international bodies, I strive to contribute to evidence-based decision-making. I serve on journal editorial board, funding and evaluation bodies and have been honoured with awards such as the Sir John Hammond Award from the British Society of Animal Science.
Find out more about our research services