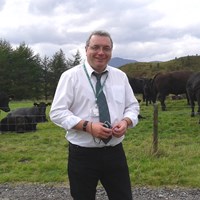 Hi I'm
Prof Davy McCracken
Position: Head of Department and Head of Research Centre
Location: Highlands and Islands
Expertise:

Agriculture, Crops and Soils
Natural Economy
Climate, Environment and Wildlife
Policy
I am Professor of Agricultural Ecology and Head of both SRUC's Hill & Mountain Research Centre and Integrated Land Management Department. I am primarily based at SRUC Auchincruive but have staff all over South and West Scotland.
I have been studying farming and wildlife interactions and the impacts of agricultural and agri-environmental policy at a national and international level for 30 years. I joined SRUC in 1995 and in recent years the land management and future policy implications of Brexit have also become an increasing focus of my work.
I took on the role of Head of SRUC's Hill & Mountain Research Centre in 2013. Much of the Centre's research is focused around SRUC's Kirkton & Auchtertyre upland farms, which we are developing to be a platform for agricultural, environmental and agro-forestry research and demonstration.
I created the wider Integrated Land Management Department in 2019. Staff across the department are involved in the delivery of education and training at a range of levels.
My aspiration is that collaborative work across the wider department will help ensure that our students – irrespective of the primary focus of their qualification – will obtain a much better understanding of the constraints and opportunities facing other land use sectors.
Such an understanding is essential if we are to reduce ongoing conflicts between different land uses and move more to a culture of integrated land management which will help land managers cope with climatic and economic shocks.
Areas of expertise and interests
Agriculture, Crops and Soils
Natural Economy
Climate, Environment and Wildlife
Policy
I'm currently working on
the role of livestock in food system resilience in remote, upland regions
steering European animal production systems towards a sustainable future
assessing the supply and flow of ecosystem services and biodiversity from semi-natural habitats in upland areas under different management
assessing the overall sustainability of alternative upland sheep systems
My professional highlights
member of an Academic Advisory Panel established by the Scottish Government in 2019 to help inform development of integrated land management policies post-Brexit
co-chair of an Independent Working Group facilitating the development of a Working for Waders Programme of Action for Nature Scot
chair of the Steering Group for the Wild Park Initiative established by Loch Lomond & The Trossachs National Park
member of the Scottish Government's Scottish Biodiversity Strategy 2020 Science Support Group
member of the Expert Panel supporting Nature Scot's Scientific Advisory Committee
Additional links
Find out more about our research services