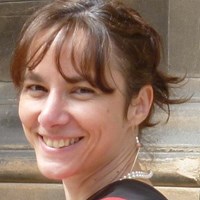 Hi I'm
Claire Morgan-Davies
Position: Livestock Systems Scientist
Location: Highlands and Islands
I am a Livestock Systems Scientist, who, originally from Burgundy, who graduated from France as an 'Ingénieur en Agriculture' from UniLaSalle Beauvais in 1995. I joined the James Hutton Institute in Aberdeen, worked as a sheep and cattle grazing modeller, and as the administrator of a European Network on animal fine fibres. At the same time I gained an MSc in Land Resource Management at Cranfield University.
I joined the Hill and Mountain Research Centre at SRUC in 1999, looking at evaluating the introduction of a native woodland on a hillside, whilst keeping sheep production. This project included modelling work and participatory research with hill farmers.
I focussed then on livestock systems comparison and multi-disciplinary research. In 2006, I embarked on a part time PhD at the University of Edinburgh, whilst carrying on as a research scientist at the Hill and Mountain Research Centre. My PhD studies focused on the change in the EU Common Agricultural Policy of decoupling support for livestock, and on how it affected husbandry practices and land use in the Scottish hills.
I developed an interest in smart farming for sheep systems, and in how technology could help hill farmers to be more efficient. My research focused on sheep systems and Precision Livestock Farming, as well as on-farm labour, and I became more involved in European projects (H2020 SheepNet and EuroSheep, ERANet SusSheP) where my knowledge of extensive sheep systems, as well as my being French, was a bonus.
I have published more than 70 journal and conference articles, as well as participated in many outreach events with farmers and stakeholders, both in the UK and abroad.
Many of my compatriots are still puzzled as to how I can survive, being French, in the rain and mist of Scotland, but the Scottish landscape (and the various local beverages) are a powerful attraction.
I'm currently working on
innovative technologies for sheep systems (H2020 - TechCare, H2020 Sm@RT, InnovateUK SmartSheep)
sustainability of sheep farming (H2020 EuroSheep) and of upland farming (BBSRC ResULTS)
My professional highlights
awarded the British Society of Animal Science President's Prize in 2016 for my theatre presentation on 'Introducing a targeted selective working approach on a hill farm using electronic identification of lambs'
Editor of the Livestock Farming Systems - Precision Livestock Farming section in the journal Animal: An International Journal of Animal Bioscience
Vice-President of the European Federation of Animal Science Precision Livestock Farming Commission
Additional links
Find out more about our research services