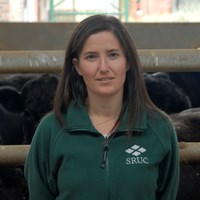 Hi I'm
Dr Carol-Anne Duthie
Position: Head of Beef and Sheep Research Centre
Location: South East Scotland
Expertise:

Agriculture, Crops and Soils
Climate, Environment and Wildlife
Livestock and Fishing
Technology
I am an animal scientist in the Agriculture, Horticulture and Engineering Sciences Department. I started my academic journey at the University of Aberdeen in the 1990's, studying animal science and agriculture. From this point I was determined to pursue a career in Agriculture with a focus on livestock production science.
Following my studies in Aberdeen I moved to SRUC in Edinburgh to undertake a PhD in animal breeding. One of the key things I learned as an early-career researcher was to be flexible and open to new ideas.
Since my PhD I have continued my research career at SRUC where I have been fortunate to have worked with academic colleagues throughout the UK and internationally across a range of areas, such as animal breeding, production efficiency, climate change, meat science and more recently precision livestock farming. This has led to some memorable collaborations as far afield as New Zealand.
As a researcher I am focussed on working closely with the industry and delivering practical solutions to address real challenges – this is where I get a real buzz! These days you will find me at the Beef and Sheep Research Centre where I have a fantastic group of colleagues. As well as research I supervise PhD students and deliver lectures to undergraduate students.
Away from work I like to spend time outdoors. You can normally find me in a field somewhere competing in agility with my two border collies or spending time in the hills with friends and family.
Areas of expertise and interests
Agriculture, Crops and Soils
Climate, Environment and Wildlife
Livestock and Fishing
Technology
I'm currently working on
precision farming technologies to optimise the efficiency of beef production
novel technologies for early-health detection in dairy-bred calves
new techniques for measuring methane from cattle
methane mitigation strategies for cattle
My professional highlights
former chair of the British Society of Animal Science Strategy and Innovation Committee
current member of the British Society of Animal Science Awards Committee
director of the Scottish Accreditation Board
review editor for Frontiers in Animal Science (Precision Livestock Farming)
Member of KTN's Animal Sector Advisory Board
Additional links
Find out more about our research services