World first Amazon challenge for former SRUC student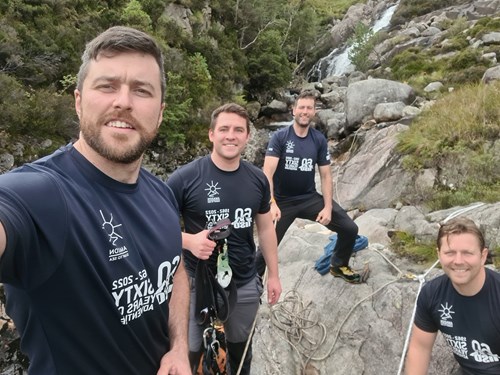 John Bathgate, far left, is heading a 5000km Amazon expedition
A former SRUC student is embarking on the first ever navigation of the Amazon River from its highest source at the summit of Volcano Chimborazo in Ecuador to the river's mouth at Belém in Brazil this month.
John Bathgate, who studied for an HNC in Countryside and Environmental Management and a PDA in Ecology Surveying at SRUC while serving as a Royal Marine, will embark on the Summit to Sea 2023 Expedition on 28 April with his brother Ben and a group of friends.
The challenge, originally devised by the brothers' father David, will take seven months and cover more than 5000km through snow, ice, rocks and jungle.
David came up with the plan while returning from an expedition to climb the south face of Huandoy in the Peruvian Andes in 1968. However, due to other commitments – including an attempt to make the first ascent of the Southwest face of Everest in 1972 - he was unable to follow up on it and, at the age of 80, passed it onto his youngest son.
As well as recording frog calls for indicator species identification in the Ecuadorian Andes and the Amazon Basin – areas under threat from deforestation due to agriculture, oil extraction, mining and the expansion of cities - the expedition will raise funds for the charities Rainforest Concern, Royal Marines Charity and RV.ONE.
Scotland's outdoor retailer Tiso is providing the equipment for the trip which is also being supported by the Scientific Exploration Society.
John, 34, from Edinburgh, said: "My father planted a seed and cultivated it in the form of old maps, dusty books, scribbled expedition diaries and mysterious stories.
"The Amazon Basin is the most biologically diverse place on the planet, but we are clearing it at a rate of around 15 square miles a day. To put that into perspective, an area half the size of Scotland is disappearing annually.
"Will the 'sea of green' that my father described in 1968 when he paddled the Amazon be there in 2023?
"We are embarking on our journey in the name of adventure, but we also want to connect with and learn from indigenous people along the way. I think the 'West' could learn a lot from the sustainable practices used by these people who have lived in harmony with the forest for centuries. We hope to pass this knowledge on once we return to Scotland, aiming to eventually change our culture to prioritise the natural environment that supports us."
For more information visit: www.summittosea.org.uk
Posted by SRUC on 17/04/2023