Winning Agriculture students past and present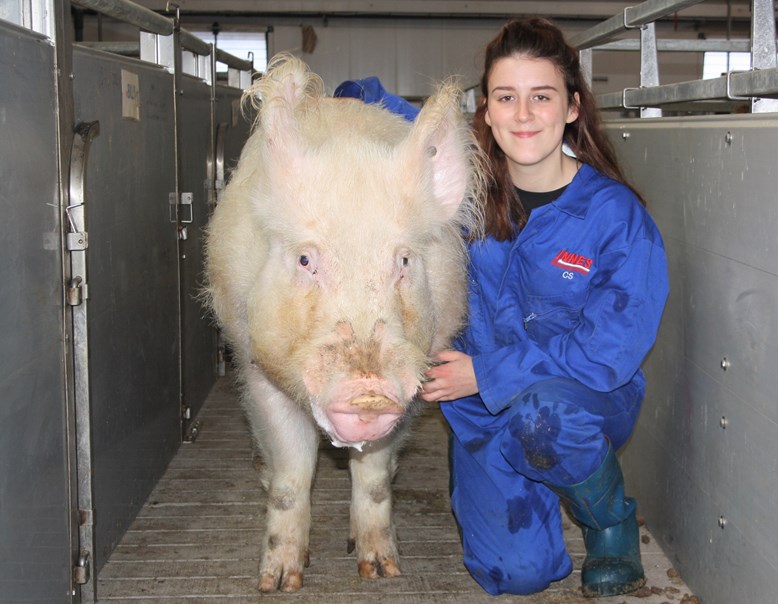 Farm worker of the year Chloe Shorten with her boar Bert.
Two SRUC Agriculture students, past and present, have won their categories at the British Farming Awards.
Alumna Jenny McKerr, and her husband Stephen, won the Diversification Innovator (small-medium) of the Year award and current student Chloe Shorten won in the Farm Worker of the Year category.
Chloe is studying part-time for her Agriculture degree to allow her to work as a farm manager at J C Innes & Son in Aberdeenshire.
She is on a winning streak this year, having previously won the Royal Northern Agricultural Society (RNAS) 35 Years and Under Award – sponsored by SRUC – and is also shortlisted in the Young Pig Farmer of the Year category at the National Pig Awards, which will be announced next month.
Jenny worked in the Scottish beef industry before she and her husband bought their small beef and sheep farm in South Lanarkshire, where they diversified the business by converting a milking byre into The Wee Farm Distillery.
She said: "It feels incredible to be recognised at a national level and even better to be able to celebrate in person at the British Farming Awards.
"We are first generation farmers finding our way and have taken risks when diversifying the farm. Thankfully our short supply chain and knowing our consumers has given us a successful farming model to continue to develop. This award makes all the hard work worthwhile."
Another former student Andrew Houstoun, and his wife Lauren, won the silver award in the same category. They farm in Perthshire and started Glenkilrie Larder just before the Covid-19 lockdown, supplying meat boxes to customers.
The Marshall family - including alumna Shona Marshall who graduated with an honours degree in Rural Business Management in 2018 - won the silver medal in the Family Farming Business of the Year category for their farm and farm shop business in Aberdeenshire, and Martin Dillon was runner-up in the Machinery Innovator of the Year category.
Posted by SRUC on 22/10/2021