Webinar to discuss Craibstone proposals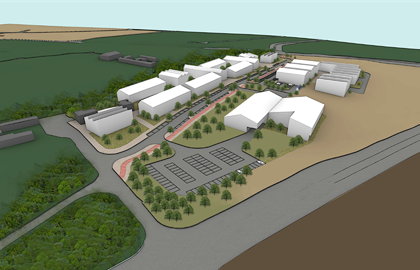 An early concept drawing for SRUC's expanded Aberdeen Campus.
Professor Wayne Powell, SRUC Principal and Chief Executive, will take part in a webinar to discuss proposed future plans for the Craibstone Campus in Aberdeen with members of the farming community.
He will be joined at the event with NFU Scotland on Thursday 14 January by Prof Caroline Argo, Dean of the North Faculty, and Andrew Lacey, Head of SAC Consulting.
Chaired by NFU Scotland President Andrew McCornick, the panel also includes NFUS Vice-President Charlie Adam, NFUS North-East Regional Chair Andrew Connon and Hazel Kennedy, a former student at Craibstone.
The potential expansion project proposals include expanding teaching facilities focussed on veterinary skills in rural areas, new halls of residence, space for research laboratories, an allied veterinary practices to support education, as well as exploring opportunities to support the local community and economy. SRUC is looking for as much input to its project plan as possible at this early stage.
Prof Powell said: "We are fully committed to the North East of Scotland and the proposed development of Craibstone campus will benefit research/innovation, skills and education in the area. As part of the consultation, we look forward to hearing the views of the farming community during this webinar. Views collected during this consultation will help inform these plans further and help advance what would be an exciting development."
Andrew McCornick said: "I would encourage all of our members to actively participate in this event, and ensure you play a part in shaping the future plans for Craibstone. This campus requires investment and we look forward to helping SRUC ensure that practical decisions are made for the benefit of our fantastic Scottish agricultural industry. I am looking forward to welcoming all our highly knowledgeable panellists to the virtual stage next week, in what is sure to be a very interesting discussion."
Andrew Connon said: "It is important that members from all across Scotland interact and participate in this session, as Craibstone is an iconic campus which has welcomed students from across the entire country in previous years. We would see the aspirations and plans for Craibstone, if enacted fully and practically, ensuring that future generations of students invest their time and educational careers within this location going forward. We must get it right, though, and the farmers' voices need to be heard next Thursday night."
The webinar will take place on Thursday 14 January, 6.45pm to 8.15pm. Here is the new link for the webinar on Zoom.
The original deadline for community feedback on the proposals has been extended by a week to 15 January. People can give feedback via www.sruc.ac.uk/craibstone-consultation.
Posted by SRUC on 06/01/2021