Former student among new SRUC Board members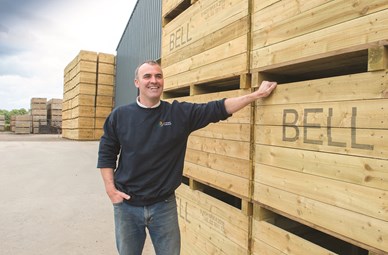 David Bell, who studied at SRUC, is among the new Board appointments.
A former student at SRUC is among three new non-executive directors to be appointed to the SRUC Board.
David Bell, who studied for his HND in Agriculture at the King's Buildings in Edinburgh in 2001, joins marketing professional Jane Craigie and Chris Sayers, former Chair of the Board of Governors at Northumbria University, in the latest round of appointments. Meanwhile Bruce Wood, already a member of the Board, has been confirmed as the new Vice-Chair.
In addition to running his farm near St Andrews, David sits on a Machinery Ring Co-operative board covering the Central Belt, a sector board for AHDB covering the whole of the UK and is Chair of the Voluntary Initiative in Scotland. He is also Chair of the local NFU Scotland branch and a member of AHDB's Research and Knowledge Exchange and Recommended List committees.
He said: "SRUC has long been a stalwart of Scotland's rural and farming communities. Having studied there, joining the Board will give me a chance to give something back to the organisation during a very challenging couple of years for the farming community and a very exciting time for SRUC as it goes for degree-awarding powers."
Owner of Jane Craigie Marketing in Aberdeenshire, Jane is immediate past Chair of the British Guild of Agricultural Journalists and serves on the Executive of the International Federation of Agricultural Journalists.
She said: "I have long admired the scope and reach of SRUC in the fields of education, research and development and agrifood and rural advice. SRUC's leaders have been both visionary and bold in the changes that they have implemented over the past decade, and the plans for the coming decade are incredibly exciting."
Chris has over ten years' experience as a non-executive director in various organisations in the higher education, local government, social enterprise and charity sectors.
He said: "I am delighted to be joining the SRUC board at this very exciting time in its journey. SRUC has a very powerful sense of purpose and ambitious plans to establish itself as a world-renowned university in its own right. It will also continue to be a major influencer in tackling one of the biggest challenges that society has to solve – namely, how to change behaviours and practices to ensure that the natural capital that we all depend on is used more constructively and sustainably."
Sandy Cumming, Chair of the SRUC Board, said: "We are delighted to have appointed three outstanding new Board Members. We had an excellent response to our recruitment exercise, and we are grateful to all applicants for their interest in SRUC. David, Jane and Chris will make significant contributions to achieving SRUC's ambition to become Scotland's Enterprise University at the heart of the sustainable natural economy."
Posted by SRUC on 08/01/2021