Utility vehicle gifted by generous donor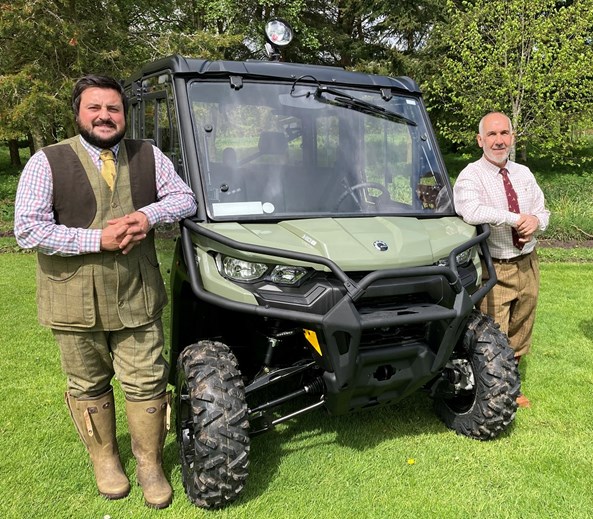 Gamekeeping Instructor Rhuaridh Horne and Gamekeeping Lecturer Jim Goodlad with the new utility vehicle.
Students at SRUC have been gifted a new four-wheel drive vehicle by a generous local landowner.
The Traxter HD10 utility vehicle has been donated to students studying Gamekeeping and Wildlife Management at SRUC's Elmwood campus in Fife by a landowner who wishes to remain anonymous.
The vehicle, which seats six people and has a loading compartment at the back for equipment, will enable more off-road practical activities to be undertaken as part of the course. It will also be used on shoot days to ferry people around.
Jim Goodlad, Course Tutor for Gamekeeping and Wildlife Management, said: "It is hard to express my delight, gratitude and appreciation for such a wonderful donation.
"This will serve the needs of students and the gamekeeping department whilst enhancing our opportunities to undertake practical activities within the local estate that we help to manage.
"Our donor manages his flora and fauna with biodiversity as a key foundation platform, integrated with game management interests. This has opened up opportunities for students to undertake work placements, which is a fundamental part of the gamekeeping curriculum, and I look forward to further development of this in due course."
For more information about studying at SRUC, visit: www.sruc.ac.uk/courses
Posted by SRUC on 26/05/2021