The growing impact of research in the natural economy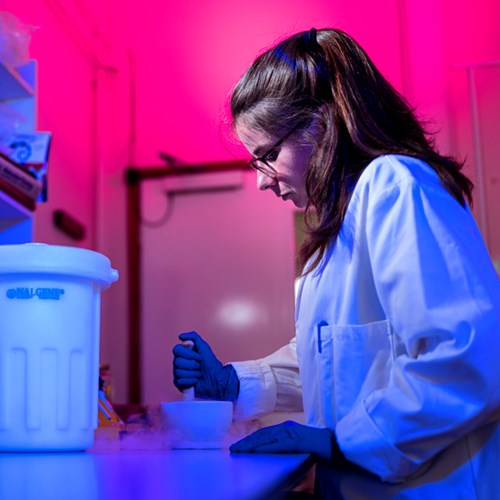 SRUC research is having a growing impact in the natural economy.
As SRUC celebrates rising to third in Scotland for research citations in the 2023 Times Higher Education World University Ranking, Professor Wayne Powell discusses the role of applied research in driving forward GDP and productivity growth in the natural economy.
The role of higher education institutions to power the economy has never been more important. As the need for GDP and productivity growth in the natural economy continues to press, so too does the need for better ways to tackle grand challenges like net zero, sustainable food production and halting biodiversity loss.
Core to this is the role of research. Research drives applied innovation in every economic sector and we are particularly proud of the fact that our research is increasingly cited, lifting SRUC to 121st in the 2023 Times Higher Education World University Rankings. In terms of research citations, SRUC is now third in Scotland after the universities of Edinburgh and Glasgow and 22nd in the UK.  
But we know that it is not our research output alone that is making a decisive impact. Our role, and that of all universities, is to invest in the skills and applied infrastructure that will ensure the research is fully implemented – and in the places where it is truly needed and can make a difference.
 At SRUC, we are in the privileged position of working with students throughout Scotland and with businesses directly engaged in the natural economy. Over 90 per cent of our students are Scottish-domiciled and over the past four years, we have provided £57.5m of business value to SMEs – more than any other UK higher education institution.
This integrated approach – research, business collaboration and skills – is vital for Scotland to reach its full potential as a leader in the natural economy. It is also vital for the drive to boost productivity both here in Scotland and across the UK.
Scotland's agricultural sector accounted for just 1.4 per cent of GDP in 2016 and when our GVA figures are compared to the likes of the Netherlands, we are sitting at half of what we could be. If we increased agricultural productivity from a rate of 1.1 per cent to 1.9 per cent the sector could contribute an additional £460 million GVA by 2040.
We can close that gap through canny collaboration and investment in applied research-focussed initiatives like SeedPod, which this month received £3.1 million from the Scottish Government's Just Transformation Fund. SeedPod, which will be located at SRUC's Craibstone campus, marks a £21 million overall investment in the food and drink industry to boost innovation and technology adoption, market and product development, global consumer focus and provide start-up production space and development facilities for high-growth new businesses.
At the heart of this, like other initiatives we're working on across Scotland, from vertical farming to Dairy Nexus and GreenShed, is the application of world class research. The new university rankings reflect the hard work of everyone involved in our research teams and help to elevate our status on a global stage. But I'd like to think that the complete SRUC story is even more compelling.
Posted by Prof Wayne Powell, Principal & CEO, SRUC on 14/10/2022