SRUC well placed for Covid financial impact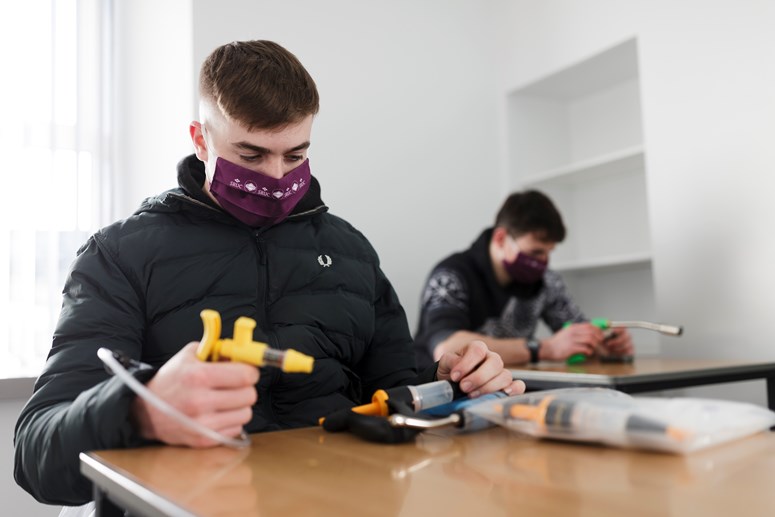 The health and wellbeing of students during the pandemic remains a priority at SRUC.
Covid mitigation plans put in place by SRUC meant the institution was well placed to deal with any financial impact during the first year of the pandemic.
Published today (Monday 20 December), SRUC's annual accounts for 2020-21 show the organisation recorded an underlying operating surplus of over £900,000.
A focus on the health and wellbeing of students during the pandemic was a priority, with SRUC's 'bed and breakfast' style of accommodation  introduced so students could book short stays on campus rather than being tied to full-term contracts when much of their learning was being done online. Understandably, this led to a decrease in revenue.
There was also lower research income due to challenging conditions for projects during lockdown.
However, a 10.5 per cent increase in student applications and reduced operating costs due to fewer people being on campus were among the factors which helped to offset these losses.
The bank and cash balance – including short-term deposits – held by SRUC at 31 March 2021 was £26.5m, an increase of £6m. This reflected the cash generated from operating activities and movement in working capital.
The total pension liability at 31 March 2021 was £27.7m. This was an increase of £3.7m from 2020 and relates to the four final salary pension schemes operated by SRUC.
Meanwhile, SAC Commercial (SRUC's commercial arm) continued to achieve a profitable trading position in a difficult market sector.
Although the operating profit of £1.2 million was around £700,000 down on the previous year, operational cost savings and the innovative work of the Veterinary Services lab at the Pentland Science Park, which was utilised as a Covid-19 testing facility for NHS Lothian, helped to mitigate losses.
Professor Wayne Powell, Principal and Chief Executive of SRUC, said: "The last financial year was an extraordinary and challenging one, during which SRUC demonstrated huge levels of adaptability, commitment, resilience, kindness and a sense of community. In many ways this experience has reinforced our identity, shared purpose and values.
"Perhaps most importantly, it has generated huge confidence and optimism about the future and SRUC's ability to make and absorb sustainable changes at pace.
"This appetite for change and ensuing momentum is built around our tripartite mission of education, research and knowledge exchange/commercial services. This provides a resilient model to build both a sustainable long-term financial model and realise our vision to be a rural enterprise university at the heart of the natural economy. 
"The character, resilience, flexibility and commitment of my colleagues over the past 15 months has been outstanding and has been the cornerstone of the successes recorded in this annual report.
"This shared endeavour, built on a culture of teamwork, has not only sustained our operation but in some cases supported significant growth." 
The report can be found on the SRUC website.
Posted by SRUC on 20/12/2021