SRUC students win social enterprise award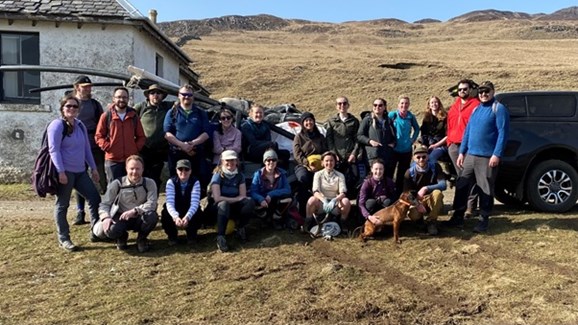 ORCS has been recognised for its work providing students with ecosystem protection and restoration work experience.
An SRUC student community group has scooped a £1000 prize after being named as one of the winners in the Scotland-wide Social Innovators Challenge.
Oatridge Rangers and Countryside Stewards (ORCS) was one of seven groups awarded the top prize in the competition, delivered by Young Enterprise Scotland with support from Scottish Enterprise and FirstPort.
College students from across the country were challenged to come up with a business idea that would support one or more of the UN Sustainable Development Goals.
Founded in 2020 by Andrew Beverley, a Wildlife and Conservation Management student, ORCS works with SRUC staff and a range of conservation organisations to provide students with professional work experience in ecosystem protection and restoration.
Andrew, who will step down as President of ORCS this year, said: "With the support of SRUC staff, ORCS has provided opportunities to work with some amazing people and conservation organisations.
"I could not be prouder of the new team's passion and initiative in winning the Social Innovators Challenge, and I look forward to celebrating future successes with them. I have always believed that we could succeed together."
James Montgomery and Isabel Curnock, the incoming ORCS Co-Presidents for 2022-23, said the prize would enable ORCS to go from strength to strength, providing more students with critical practical experience, exposure to key industry stakeholders, and greater self-confidence.
John McGregor, Programme Team Leader for Wildlife & Conservation Management at SRUC Oatridge, said: "We are understandably thrilled with the students' recent win. We recognised from an early stage the potential of ORCS. We have enjoyed being a part of its journey so far and will continue to support the group as it evolves."
Carol Langston, Director of SRUC's Enterprise Academy, said: "We are delighted to see this talented group of students being formally recognised for their vision, creativity and resilience in driving this enterprise forward and, in doing so, providing its members with invaluable professional development experience whilst championing environmental sustainability.
"We hope their work and success through the Social Innovators Challenge will inspire others to recognise that we can all make a difference."
Posted by SRUC on 11/05/2022