SRUC kicks off partnership with women's rugby tournament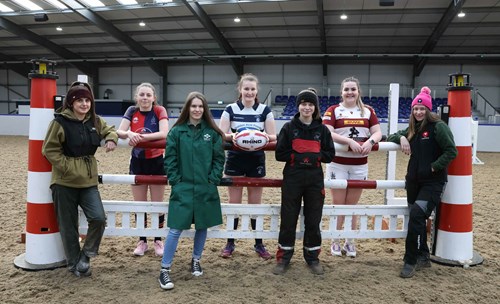 SRUC is helping to raise the profile of women's rugby with a new sponsorship deal
A Scottish women's rugby sevens tournament will return for a second year – thanks to support from Scotland's Rural College (SRUC).
The Women's 7 competition was introduced in 2022 to help develop players and showcase the game to as wide an audience as possible.
It is run by Adrian Henry, a Residential Safeguarding Officer at SRUC Oatridge, who also owns Rugby People – a rugby photography organisation.
SRUC has now joined the Rugby People family as one of the sponsors of the Women's 7s Series which will see up to 12 clubs compete over three Saturdays in June.
Cartha QP in Glasgow will host the first leg on 3 June, followed by Stewartry RFC in Dumfries and Redford Barracks in Edinburgh over the following two weekends.
The venues have offered their facilities for free, co-sponsors Rugbystore will kit out the officials and SRUC will contribute £1,000 towards the cost of buying trophies and medals for the competition.
Adrian said: "As an associate member of Scottish Rugby, we can run a women's 7s team, and it was from that, and in discussion with people involved in women's rugby, it became apparent there was a need for a 7s competition exclusively for the women's clubs."
Anouska Curzon, Marketing and Student Recruitment Lead at SRUC, said: "We are excited to be sponsoring this year's Women's 7 tournament. With the tournaments being held close to our Barony and Edinburgh campuses, it's a great opportunity to support women's rugby and to promote SRUC and our courses to a wider audience."
The competition is free to enter and is open to every women's team in Scotland with clubs able to enter every leg or just one or two.
For more information about the competition, email adrian@rugbypeople.net.
Posted by SRUC on 09/03/2023