SRUC Alliance for the Natural Economy Forum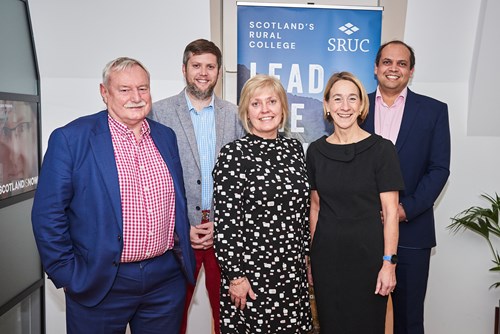 L-R Prof Wayne Powell, Prof David Rose, Linda Hanna, Susannah Bolton, Dr Matthew Agarwala
"In terms of 'great ideas per minute' that has to have been one of the best events I've attended all year. I would be thrilled to be involved in future" Jen Butcher, Head of Commercial Responsibility, AB Agri.
Last Wednesday evening in Scotland House, in the City of London, SRUC convened a group of people, all with different expertise and experience, to discuss over a fabulous Scottish dinner what a "just transition to a natural economy" really means.
Dr Matthew Agarwala from Cambridge University's Bennett Institute for Public Policy kicked off by opening our eyes to the price humanity has paid for its relative increase in affluence, and the stark realisation that by focussing on GDP as a metric of progress we have focussed entirely on the size of the pie without due consideration for the finite resources that make up its ingredients.
The conclusions of Matthew's research are clear. We need to understand our "wealth" in different terms, and "measure what matters". This includes the environmental stocks and systems that constitute our natural capital, and also the elements of human, physical, social, institutional and knowledge capital that underpin society and well-being.
Incorporating new metrics to reflect the entire portfolio of capital will have a huge influence on how we understand and manage risk, and also how we understand and grow productivity in a sustainable way. As we have seen in China over the past week, governments and businesses ignore the importance of social capital and trust in institutional frameworks at their peril.
Businesses need to reflect on their balance sheets in these terms and as a society we need to ensure that business management training incorporates this understanding of wealth. To ensure that we do not reinforce geographic and demographic inequalities, access to meaningful knowledge that enables risk management and decision-making is key.
And as Matthew observes, "We need greater spatial recognition in our social capital data". The means to overcome current deficits by, for example, using Google search analytics to establish trends in real time, are potential game-changers that are there to be harnessed. There is a huge opportunity in getting this right, because social capital measurement can have a direct effect on the efficacy of policy decisions.
With his lovely analogy of kids' story-time classic, The Very Hungry Caterpillar, Prof David Rose from Cranfield University showed us that "just transition" is about enabling informed choices, as people and communities go through the processes of change. Justice can take many forms and lack of access to knowledge is a basis for many injustices.
Institutions must earn trust by growing their social capital and addressing knowledge asymmetries to support informed decision-making at appropriate scales. So, we're faced with the question of how to involve farmers and others in rural communities and how to ask them about their attitudes to diverse concepts of justice. This can be done in a range of possible ways, from citizen juries to village hall meetings, to find out what society really thinks. But doing so and getting it right will encourage a more equitable spread of the benefits from transition and it's important to get this right.
SRUC's own Linda Hanna used her vast experience in Scotland's business community to bring the discussion back to the role of enterprise and entrepreneurship. Enterprise is vital in shaping change and coming up with practical, workable solutions. As Linda pointed out, strategies like Scotland's National Strategy for Economic Transformation (NSET) and Mark Logan's recent Scottish Technology Ecosystem Review (STER) raise some key questions for SRUC and other organisations interested in shaping a thriving natural economy:
How can we help to de-risk pathways to innovation and growth for natural economy-focused companies?
How can we get policymakers genuinely engaged with the natural economy?
How do we shape and support rewarding careers in the natural economy?
Answering these requires collaboration, working across organisational boundaries and building the credentials of companies working in the area.
Getting it right offers enormous benefits. There is huge potential in sharing knowledge across the blue and green economies to improve the way we use resources and to reduce waste. New markets will emerge that recognise the value associated with natural capital, creating demands for innovative product development. Investment in local community enterprise and innovation will create all sorts of new jobs that we cannot yet imagine.
Farmers and retailers have a role to play in creating equitable value chains, but this will only happen if the knowledge and understanding of value is also shared. Universities and colleges like SRUC have a vital role to play in addressing knowledge deficits and the unique tertiary model of SRUC – enabling skills development and life-long learning alongside world class research – will help prepare people to take advantage of these new opportunities as they arise.
I would like to express my deepest thanks to all of the colleagues and guests who took part and also to the Scottish Government team at Scotland House, which provided an excellent setting. We look forward to continuing and deepening the conversation through further Alliance for the Natural Economy Forum events in 2023.
Dr Susannah Bolton
SRUC Vice-Principal for Enterprise and Knowledge Exchange
Posted by Dr Susannah Bolton on 01/12/2022