Breathing life back into Scotland's neglected crofts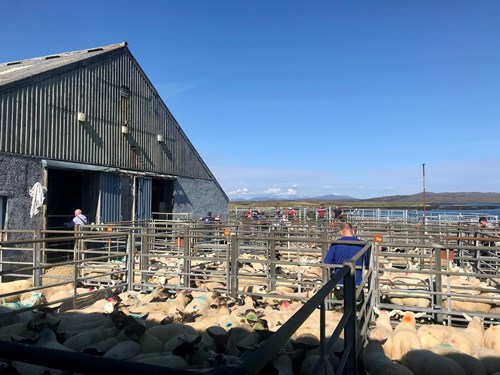 Lochmaddy sheep sale in North Uist
Confusion over crofting regulation is fuelling challenges around neglected crofts and preventing young families from accessing land and moving to rural communities.
There is a growing problem around crofts being held on to by crofters who are no longer able to actively work them or are being left to those who reside away – and in doing so, are failing to comply with Crofting Duties. The Crofting Commission were notified of 1,289 crofters across Scotland who did not comply with their Crofting Duties in 2020, with 70 per cent of cases owing to individuals being non-residents – this was up almost 100 per cent from 2019.
This situation is partly fuelled by the low annual cost of rent, which allows families to hold on to crofts for sentimental reasons or in the hope of relations returning to work them in the future.
SAC Consulting, part of SRUC, has recognised that legislation surrounding crofting is presenting barriers to succession planning and the team has been helping individuals to better understand their options, to maximise the potential of their croft and to support the next generation get a foot hold in the industry.
Senior Consultant and crofter, Janette Sutherland, commented: "Crofting is a highly regulated system that can be bamboozling for those not used to it.  Depending on their circumstances we can either reassure them that they are meeting their Crofting Duties or help them draw up plans to bring the croft back into cultivation and prevent neglect."
SAC Consulting can also help navigate the forms needed to, either allow the croft to be sublet to someone else for a short time, or to be passed onto a new crofter. 
"These conversations should never be rushed, as everyone's situation is unique," continued Janette. "We want to ensure that there are safeguards in place for crofters' homes, either by de-crofting before the croft is assigned, or for a solicitor to draw up a lifetime rent agreement if the croft house is to remain part of the croft."
Subletting is an option, allowing a new crofter to get started or expand with low capital costs and they will also have access to the Crofting Agricultural Grant Scheme - funds of up to £25,000 which can be used for capital projects, such as the construction of agricultural buildings, fencing or drainage.
"This can be an excellent temporary measure and ensures the croft stays in good condition," said Janette. "The alternative of long-term informal grazing agreement often results in no investment in fencing or liming.
"Another option is for croft owners to consider short-term lets, perhaps to a young crofter or a family member better able to work the croft while keeping it in the family." 
Assignation, which is the permanent transfer of a crofting tenancy, can be even more positive as it allows a secure future for young crofters to build homes and invest in longer return projects such as shelter belts and sheds.
in 2021, the Crofting Commission found that less than 10 per cent of all registered crofters in Scotland were under the age of 21 and close to 45 per cent were over the age of 61.
"There is a need to inject young blood back into crofting communities, to ensure they remain thriving areas for years to come," concluded Janette. "We hope that we can encourage crofters who are unable to actively work their croft, to explore their options and perhaps open the door to new generations to get a foot hold."
Local SAC Consulting advisors are on hand to help with plans for developing the croft, helping to overcome any issues and to keep you up to date with changes in policy and legislation. For further information, email Janette.Sutherland@sac.co.uk.
Posted by SRUC on 05/12/2022