Seven former SRUC students up for national award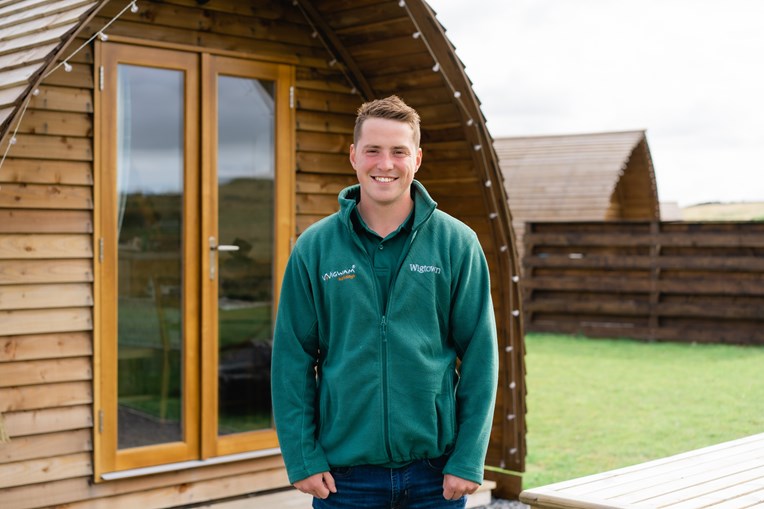 Fraser Galloway is one of seven former SRUC students shortlisted for the British Farming Awards.
Seven former SRUC students – including one who graduated this summer – are among the finalists in this year's British Farming Awards.
They include Agricultural Student of the Year finalist John McCulloch and three finalists in the Diversification Innovator (small) of the Year category – Jenny McKerr, Andrew Houstoun and Fraser Galloway.
Also shortlisted is Chloe Shorten for Farm Worker of the Year, Martin Dillon for Machinery Innovator of the Year and the Marshall family (including former student Shona Marshall) in the Diversification Innovator (large) of the Year and the Family Farming Business of the Year categories.
Agriculture alumna Jenny McKerr worked in the Scottish beef industry before she and her husband Stephen bought their small beef and sheep farm in South Lanarkshire, where they diversified the business by converting a milking byre into The Wee Farm Distillery.
She said: "It's a real honour to be shortlisted in the diversification category, amongst great company. As first-generation farmers living and breathing our rural businesses every day, it's fantastic to be recognised at the British Farming Awards."
Fraser, who graduated from SRUC with a degree in Rural Business Management three years ago, set up Wigwam Holidays Wigtown on his family's beef and sheep farm.
He said: "I am honoured and slightly amazed to be shortlisted for such a prestigious award.
"My family and girlfriend have been extremely supportive and have all worked alongside me to build up a new business in tandem with the farm. I am proud to be the fourth generation to secure the future of our family farm." 
John McCulloch graduated with an HND in Agriculture from SRUC's Edinburgh campus this summer and is now working as a stockman on a beef farm in Dumfries.
He said: "I'm extremely honoured and humbled to be shortlisted for the Agricultural Student of the Year category at the British Farming Awards. I never expected to be nominated let alone shortlisted. It makes all the hard work feel worthwhile."
Now in its ninth year, the British Farming Awards celebrate innovative, determined and extraordinary farmers across all sectors.
The winners will be announced at an in-person event at the National Conference Centre in Birmingham on Thursday 21 October.
For more information about studying at SRUC, visit our course catalogue.
Posted by SRUC on 16/08/2021