SAC Consulting strengthens Beef and Sheep Team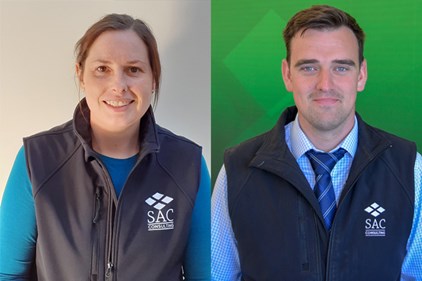 "Lesley Wylie and Robert Ramsay, SAC Beef Consultants"


SAC Consulting has strengthened its beef and sheep team with the appointment of two Beef Consultants.
Robert Ramsay and Lesley Wylie will focus on working with producers and stakeholders across the supply chain, identifying on-farm solutions for more profitable and sustainable livestock production systems.
Hailing from a beef and sheep farm in Ayrshire, Robert has worked for SAC Consulting – part of Scotland's Rural College – as an Agricultural Consultant for the last nine years. Robert joined the beef and sheep Specialist team in October 2019 taking on the Beef Consultant role.
"I have always had a keen interest in beef cattle and when the job came up, I jumped at the chance as I felt it was a great opportunity to develop my technical knowledge and build a career in this very important sector," said Robert.
With the challenges facing the industry, Robert noted that farmers must look at their systems, find where their inefficiencies are, and adapt their systems to optimise profitability.
"Farmers are under attack from a number of angles; financially, politically and environmentally. In a changing market, ensuring your business is heading in the right direction is essential.
"From a business perspective, budgeting has seldom been more important than it is now and developing livestock systems which are highly resource efficient is key."
Robert will continue to be based in the Ayr Advisory office where he has developed a strong customer base, mostly working with beef and sheep farmers.
Also joining the Beef and Sheep Team is Lesley, who previously worked as a livestock procurement officer for ABP in Perth for over six years.
Commenting on her appointment, Kirsten Williams from SAC Consulting said: "Lesley brings a wealth of knowledge and experience to the team, specifically in finishing cattle."
"I am very passionate about the beef industry which led me to my career change from chartered accountancy to livestock procurement and now to a Beef Consultant with SAC Consulting," said Lesley.
Lesley will be based in the Forfar SAC Consulting office. She hopes to contribute by building a beef industry in Scotland that is fit for purpose now and into the future.
"Looking at the challenges facing the sector, farmers should listen to what the market is telling them, and try to provide that. Build strong relationships and look at efficiencies that could be tailored in your business based on the trends in the market."
Both Robert and Lesley will help strengthen the work SAC Consulting does by contributing to the expert independent advice given to farmers to help them weather oncoming challenges.
Kirsten Williams said: "We are delighted to have both Robert and Lesley join our team. Their specialist knowledge, practical experience and innovative outlook will contribute information and guidance to farmers to help meet the challenges presented by today's farming industry."
Out with SAC Consulting, both individuals have key roles within their family farms, with Robert running the family business, which compromises 40 Shorthorn cross cows and 300 Lleyn ewes. Lesley helps out regularly on her family's mixed arable/livestock farm, particularly with the Limousin cross suckler herd that produces store cattle and a small pedigree herd of Limousin cattle.
More information on the SAC Consulting Beef & Sheep Team.
Posted by SRUC on 29/11/2019