Respecting rural diversity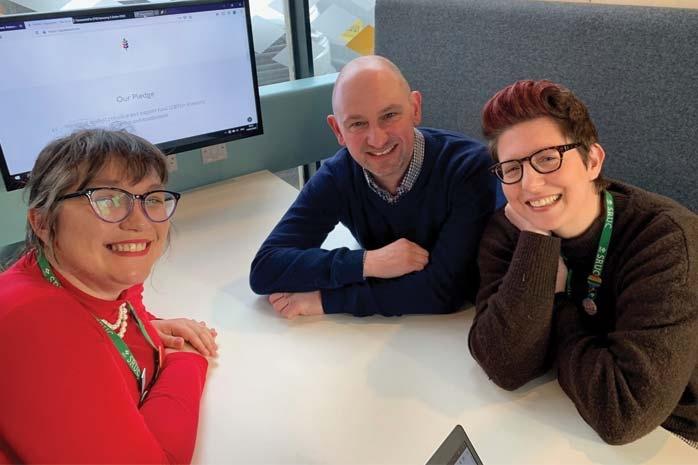 "SRUC student representative Katie Dubarry, farmer Matt Naylor and LGBTQ+ staff member Kath Pierce discuss Agrespect pre-lockdown"


Scotland's Rural College (SRUC) has cemented its commitment to diversity by signing the Agrespect pledge.
Agrespect is an organisation which promotes the countryside as a "vibrant, tolerant and welcoming place for everyone irrespective of gender, ethnicity or sexual orientation".
In becoming an Agrespect partner, SRUC has committed to "stand against prejudice and support rural LGBTQ+ diversity, inclusion and enablement".
The announcement comes as the LGBTQ+ community prepares to celebrate Global Pride 2020 on Saturday 27 June. This will be followed by Pride Inside, a week-long series of online gigs, comedy shows, panel discussions, and arts-based events celebrating LGBTQ+ rights.
Professor Wayne Powell, SRUC's Principal and Chief Executive, said: "We are very proud to sign this Agrespect pledge, recognising the diversity among our colleagues and students.
"As an organisation, we are committed to equality and diversity and we look forward to working with Agrespect to ensure SRUC is a welcoming place for everyone, regardless of their gender, ethnicity or sexual orientation."
Matt Naylor, one of the farmers behind Agrespect, said: "We are delighted that SRUC has given such enthusiastic support to the Agrespect initiative. We aim to celebrate diversity in the countryside by sharing the stories and achievements of people who don't fit the traditional stereotype that the media like to attach to farmers.
"There are so many fulfilling opportunities for young people in the food and farming industry and we want everyone feel that they are a welcome, valued and integral part of it."
Posted by SRUC on 24/06/2020