"Proud" students awarded for farm work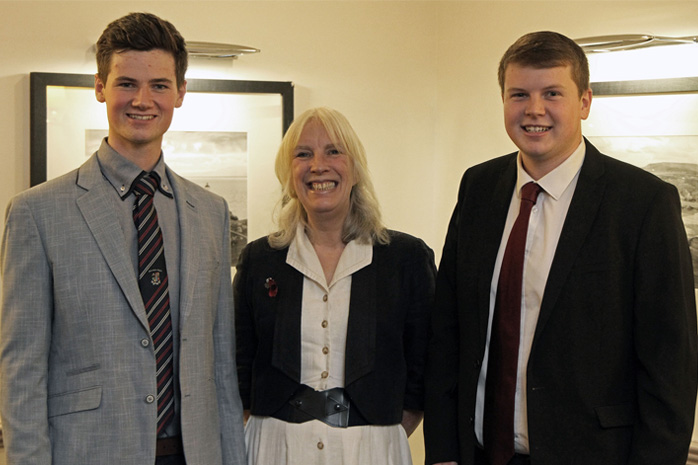 "Oliver and Paul with Professor Caroline Argo, Dean of the North Faculty"


Two student farmers at SRUC Aberdeen have been recognised by the Royal Northern Agricultural Society (RNAS).
Oliver Pirie and Paul Duguid, who are studying Agriculture at the Craibstone campus, were presented with their student awards at the society's lunch in Aberdeen earlier this month.
Oliver, of Castle of Auchry Farm in Turriff, won the Clydesdale Bank-sponsored award for a farmer's son or daughter working at home, and Paul, from Aberdeen, won the award for a student employed outside the home.
Oliver, who is in his third year, comes from an arable farming background and is interested in agronomy and diversification.
He said he was "very proud" to receive the award.
"It was an award I wasn't expecting to be put forward for and so I was really chuffed," he said.
Fourth year student Paul, who comes from a non-farming background, developed an interest in livestock after he started working on farms while at school, and has started buying his own ewes and lambs.
"I believe you gain a better understand of a farming enterprise when you run something for yourself," he said. "I would like to think this would make me a better employee due to an understanding of how narrow the margins are in the sheep sector.
"This award gives me confidence that I am doing a good job in an area I feel so passionately about.
"I hope to enter the nutrition side of agriculture. I am keen to make a difference and develop the sector with the knowledge I have gained from SRUC."
The Under 35 Award, sponsored by SRUC, was won by agricultural researcher Dr Jenna Ross.
Professor Caroline Argo, Dean of SRUC's North Faculty, presented the award to Jenna in recognition of her academic work into slug control.
She said: "Dr Ross is a worthy winner of this award which recognises her achievements and contribution to agriculture.
"We are also very proud of our two students Oliver and Paul who have worked hard both in their studies and their farm work."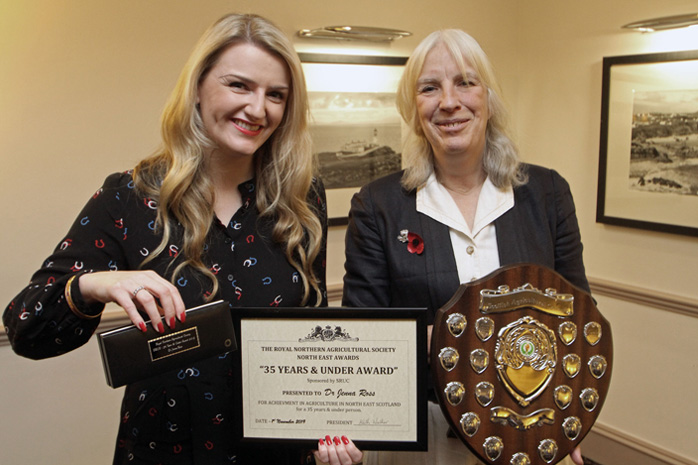 "Dr Jenna Ross receives her award from Professor Caroline Argo"
Posted by SRUC on 12/11/2019