Jumping headlong into life after cancer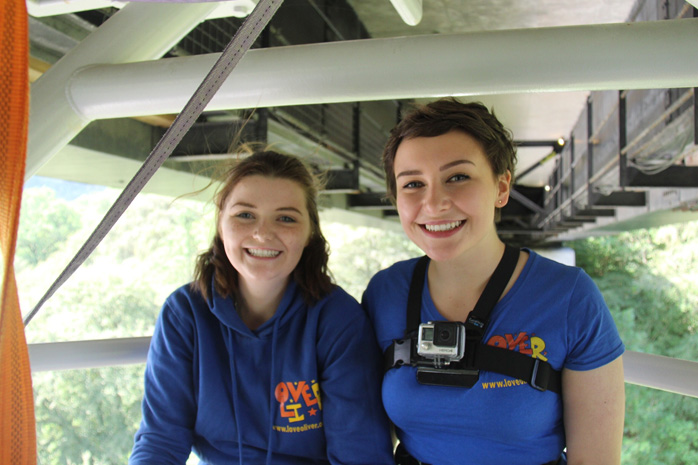 "Jade (left) and her friend Jasmine before their bungee jump"


An Animal Care student is living life to the full after finishing treatment for blood cancer.
Jade Dowie, from Glenrothes in Fife, was diagnosed with Acute Lymphoblastic Leukaemia at the age of 16.
After undergoing several rounds of chemotherapy and a bone marrow transplant, she was given the all-clear and applied to study Animal Care at SRUC's Elmwood campus.
"I'm absolutely loving it so far," she said. "I want to be a Vet Nurse but because of my illness, I was unable to complete 5th and 6th year and couldn't get my Highers to get into any National Certificate now at Elmwood with the hope of getting into Oatridge next year to do their Vet Nursing course."
Jade's diagnosis came about after she went to her doctor with what she thought was anaemia.
"I was feeling very tired and unwell and they thought I was anaemic," said Jade. "The surgery phoned me back on the same day I had my blood taken and asked me to come back in. I wasn't very worried because I thought I'd just need iron supplements or something like that.
"My doctor explained what was wrong and that I would need to go to hospital as soon as possible. It was just such a shock. You never think something like that is going to happen to you when you're only 16 and quite fit and healthy. I remember looking at my mum for her reaction before I said anything. I knew leukaemia was serious but I didn't know that much about it.
"My mum asked most of the questions and just before we left to go to the hospital, they asked if I was OK and if I understood what was going to happen. My first question was 'Is my hair going to fall out?'. It was a daft question to ask in the grand scheme of everything that was going on, but it was the only thing I could think of."
After two days at the Victoria Hospital in Kirkcaldy, Jade was transferred to the Royal Hospital for Sick Children in Edinburgh where she underwent several rounds of chemotherapy treatment with different drugs.
"The disease wasn't responding as hoped so I had to get a bone marrow transplant at the Royal Hospital for Children in Glasgow in March 2017. The transplant was successful and I am currently two-and-a-half years in remission."
Throughout her treatment, Jade was supported by her family, friends and various charities, including Fife children's cancer charity LoveOliver, which was set up in memory of Oliver Gill, who died of cancer when he was just 24 weeks old.
"Oliver's granny was actually my Primary 1 teacher at South Parks Primary school," said Jade. "They were so helpful and supportive to me and my family, and so easy to speak to since we already knew them.
"Since then I've helped out at lots of fundraising events for them, but I wanted to do something big to raise a lot of money to give back to this small but amazing charity that had helped me so much."
On her 19th birthday in July, she did a bungee jump with her best friend Jasmine – a LoveOliver ambassador – and between them they raised more than £620. The friends are now planning other fundraising activities, such as a charity hitchhike to Paris or walking part of the West Highland Way.
"My experience has definitely changed the way I look at things and how I live now," said Jade. "I'm definitely more appreciative of everything and I feel in a way it has shaped me into a much better version of myself. But I always say it shouldn't have taken cancer to make me who I am today."
Posted by SRUC on 20/11/2019