Post-Brexit launch is hosted at Oatridge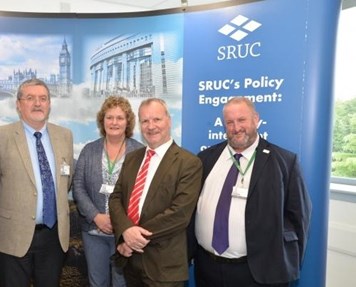 "Committee Chair Pete Wishart (second from right) with David Hopkins, Dean of SRUC's Central Faculty, Joanne Conington, Head of the Department of Agriculture, Horticulture and Engineering Sciences, and Academic Director Jamie Newbold."
The Chair of the House of Commons Scottish Affairs Committee said he "couldn't have picked a better venue" when launching the future of Scottish agriculture post-Brexit report at Oatridge.
Perth and North Perthshire MP Pete Wishart was addressing an audience of students, researchers and members of the industry in West Lothian to unveil the findings of the Committee's final report on the future of Scottish agriculture, which included evidence submitted by Scotland's Rural College.
The Committee argues that Brexit presents an opportunity to address failings in the agriculture funding formula, which has led to Scottish farms and crofts receiving low levels of funding.
It calls on the government to "depart from an outdated method of allocating funding which has failed to reflect Scotland's unique agricultural conditions and practices and introduce a new system where a nation's proportion of Less Favoured land is a central criterion in determining how much funding it receives".
The report recommends that revising the funding formula would ensure that those farmers and crofters working in the most challenging environment receive the most support and lead to an increase in the proportion of the UK-wide agricultural funding allocated to Scotland.
It also criticises the Government's pilot seasonal agriculture scheme for not providing enough workers to address Scotland's agricultural workforce crisis let alone enough for the whole of the UK.
The Committee calls on the Government to increase the pilot to 10,000 workers and scrap application and visa interview fees to open the scheme to all motivated workers, not just those who can afford to apply. Further, the Committee also calls on the UK Government to address the challenges and opportunities presented by Brexit by:
Setting agriculture budgets on a seven-year basis with a mid-point review to ensure it still meets the needs of Scottish farmers and crofters;
Issuing a joint statement with the Scottish Government on the continuity of farm payments to give certainty for Scottish farmers and crofters;
Revising its no-deal tariff regime for imports, which industry argue would lead to many Scottish agricultural products being out competed domestically by cheap imports;
Protecting Geographical Indications - such as Scotch Beef - by making them a red line in future trading negotiations;
Publishing its draft agricultural frameworks and set out a timetable for their agreement so Scottish farming groups can help shape their final form and start preparing for any changes they introduce;
Removing the £30,000 salary threshold for all migrants in future immigration plans to help sectors like veterinary science where the average salary is below this level;
Using its research and development budget to encourage new technologies and innovations which boost agricultural productivity.
Pete Wishart said: "Scotland has some of the most challenging farming environments in the UK, and yet Scottish farming is the cornerstone of Scottish food and drink industry and farms and crofts remain central to many thriving communities.
"It is nonsensical that funding through the CAP has not recognised these challenging conditions, so my Committee is calling on the UK Government to take Brexit as an opportunity to rewrite the rules of agricultural funding.
"A country's environmental conditions and situation should be a central tenant of its funding settlement. If the UK Government accepts this principle, Scotland will be likely to receive a significantly greater proportion of funding allowing the agricultural sector to realise its full potential.
"The Government must also do much more to resolve the workforce crisis on Scottish farms. The seasonal workers pilot must be quadrupled in size if it has any chance of addressing this. The uncertainty surrounding no-deal tariffs and future of geographical indications must also be resolved so Scotland can be confident its agriculture sector will be protected and enhanced post-Brexit.
"My Committee's report makes workable recommendations that the UK Government should implement to give Scottish farmers and crofters cause for optimism about the future of agriculture post-Brexit."
SRUC Academic Director Jamie Newbold, who provided the welcome at the launch event, said: "We were delighted to welcome the Committee back to our Oatridge campus for the launch of this report, which highlights the unique challenges facing Scotland's rural sector following Brexit. Not only have our researchers made a significant contribution to its findings, but this event also gave tomorrow's rural workforce – namely, our students – an excellent opportunity to make their voices heard."
Steven Thomson, Senior Agricultural Economist at SRUC, said: "We welcome the fact that the Committee has taken on board the important evidence provided by SRUC and other organisations across Scotland, particularly the need to urgently address the predicted shortfall in seasonal agricultural labour and the need to reconsider the rationale for allocating agricultural support within the UK, and move away from a model that was decided 15 years ago."
Posted by SRUC on 31/07/2019