Long distance learning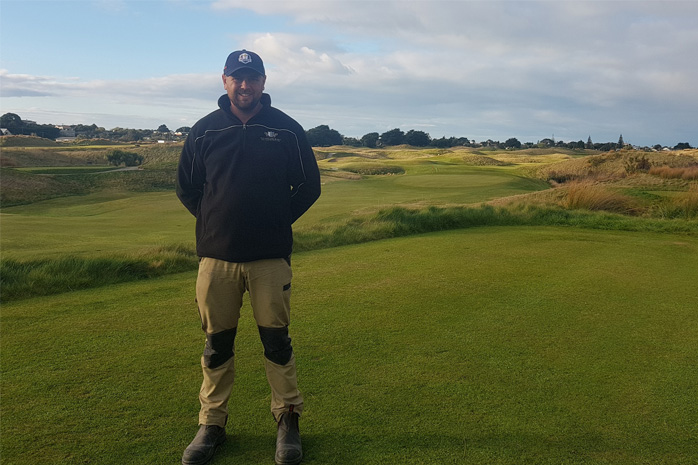 "New Zealand-based Craig Young is studying Golf Course Management at SRUC Elmwood"


A New Zealand-based greenkeeper is taking distance learning to a whole new level after signing up to study Golf Course Management at Scotland's Rural College – more than 11,300 miles away.
Craig Young, who works as Head Greenkeeper at Paraparaumu Beach Golf Club on New Zealand's North Island, is studying for an HNC at SRUC Elmwood in Fife.
He is one of nine students based as far afield as New Zealand, Australia, USA, Morocco and Zimbabwe, studying for an HNC or HND in Golf Course Management via distance learning.
In addition, nearly 200 students are doing the course from elsewhere in the UK and other countries in Europe.
Originally from County Durham in England, Craig started his greenkeeping career 14 years ago at his local club – Barnard Castle Golf Club.
In 2010 he went to the USA to work as an intern at Oak Hill Country Club for five months, before moving to Australia where he worked as Course Foreman at The Cut Golf Club, and later as Spray Technician at the Royal Fremantle Golf Club – both in Perth.
"Last year, my partner and I decided to move back to her homeland in New Zealand," he said. "I was interested in some further studies to enhance my knowledge and to further challenge myself.
"I posted a tweet asking if anybody had enrolled in an online qualification. I had a number of replies recommending Elmwood's distance learning course."
Craig, who graduated from the University of Lincoln with a degree in Recreation Management, will undertake his HNC by distance learning over three years, with all modules completed online. He then hopes to continue on to do an HND.
"I believe in continuing to learn, to be progressive, to make contacts and to create experiences in order to fulfil my career," he said.
Mike Clark, Programme Leader for Golf Course Management at Elmwood, said: "The distance learning mode of learning has proved very popular with students unable to commit to full-time study.
"They are interviewed for the course via Skype, where we have the opportunity to let them know in detail what the course entails, and the suggested study hours required.
"The students are given access to the HN units via Moodle, and myself and the lecturing staff in the team are available on Tuesday and Wednesday evenings from 4-7pm to answers queries through email, phone or Skype.
"Without doubt, communication and availability of staff is huge in the success rate for our students."
Posted by SRUC on 30/09/2019