Kaia delivers winning Agrecalc pitch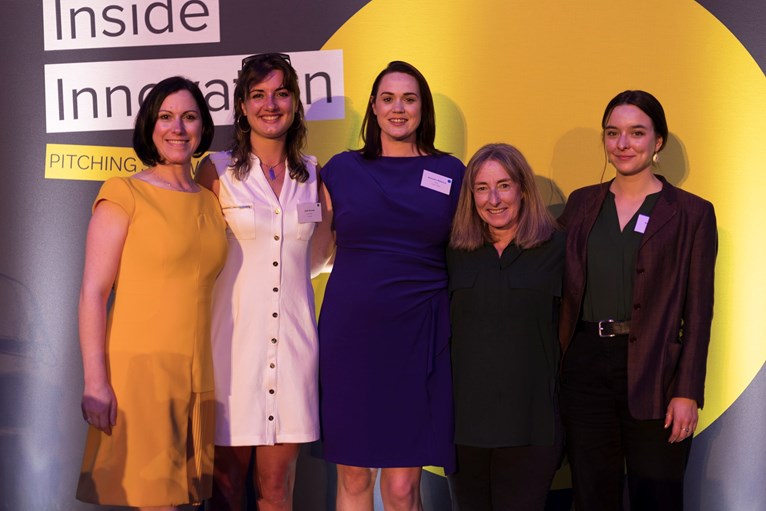 Kaia (far right) won in the Net Zero category of a Converge pitching event.
A research assistant with SAC Consulting, part of SRUC, won a 'Best Pitch' award in the semi-finals of Scotland's largest company creation programme for the university sector.
Kaia Waxenberg was one of three winners at Converge's 'Inside Innovation' pitching event which showcased the latest technologies, products and ideas emerging from Scottish universities with the potential to grow into successful businesses.
A total of 49 university start-ups and spinouts participated in the high-speed pitching competition at Edinburgh's Dovecot Studios, sharing their ideas with the country's top investors and business leaders.
The semi-finalists from three challenge categories – Converge, Net Zero, and Create Change – had just 60 seconds each to secure the votes of the audience.
Kaia won the Net Zero category with Agrecalc – an agricultural carbon footprint and resource efficiency tool developed by SRUC researchers and SAC consultants to identify and measure the main sources of carbon emissions, monitor improvements, and benchmark key performance indicators in business operations. 
She said: "I was excited and honoured to receive the prize for best pitch, especially since the Net Zero category included with so many promising low-carbon businesses solving interesting problems.
"It is wonderful to see our ambition and mission resonate with actors outside of the agricultural sector. Standing on the stage with the prize winners – all women in business – was a great way to end two intensive weeks of business training with Converge. I look forward to continuing to grow and learn through the next steps in this competition."
Jodie Sinclair from Theo Health, a health tech start-up originating out of the University of Dundee, won in the Converge Challenge category, and Alexandra McKenna won the Create Change category with Sioda – an eco-conscious social enterprise emerging from the University of Stirling.
All 49 business will now refine their business models ahead of this year's finals in November, with the ultimate winners across the three categories receiving an equity-free cash prize of up to £50,000 and in-kind business support from Converge's network of professional partners, which includes investors, lawyers and business experts.
For more information, visit the Converge website.
Posted by SRUC on 27/06/2022