Joint conference explores sustainable solutions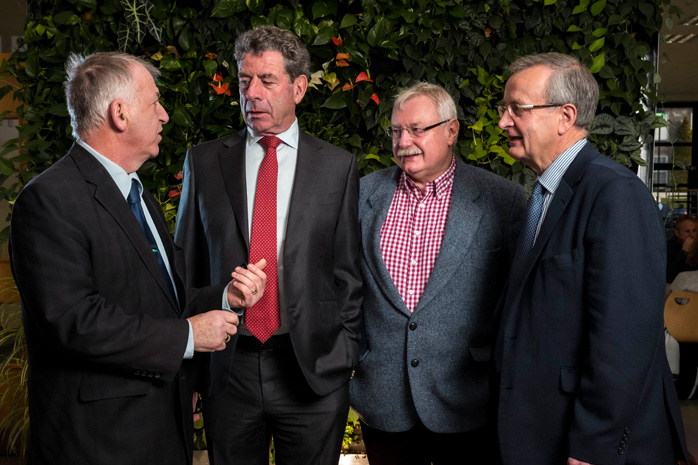 "Pictured at the joint Teagasc-SRUC conference in Dublin are, from left to right, Professor Gerry Boyle, Teagasc Director; Liam Herlihy, Teagasc Chairman; Prof Wayne Powell, SRUC Principal and CEO; and SRUC Chairman Sandy Cumming"


A joint conference between SRUC and Teagasc is taking place in Dublin today (Friday 6 December).
It is examining key challenges facing the livestock sectors in Ireland and Scotland, and how innovative approaches, in particular applying the principles of a circular/more sustainable economy, can help build new livestock systems that contribute to food security and healthy diets; develop more efficient agriculture; support livestock farmers to be profitable and competitive; and underpin the revitalisation of rural areas in both countries. The theme of the conference is 'Rural Futures II: Towards Sustainable Solutions for Ruminant Pastoral Agricultural Systems in Scotland and Ireland.'
Teagasc and SRUC have for many years collaborated on issues of mutual interest and concern. This process culminated in 2018 with the first of a series of annual conferences aimed at identifying solutions and helping create new opportunities for our rural economies.
The 2018 conference, held in Edinburgh, examined the potential of rural areas and resources to deliver on a wide range of economic, social, and environmental challenges and opportunities benefitting all citizens of Ireland and Scotland.
Today's conference is addressing the major environmental, consumer and economic challenges facing our pasture-based livestock systems in Scotland and Ireland.
In particular, options for creating sustainable and resilient pasture-based livestock production systems that can help mitigate Greenhouse Gas (GHG) emissions and adapt to a changing climate, while continuing to provide food and nutrition security.
Specifically, the conference is exploring how to strengthen the role of sustainable livestock in a circular bio-economy. This conference is bringing perspectives and insights to work together to bring about effective policy, economic and technological solutions that could lead to a vibrant, sustainable and a more circular agricultural and rural sector in Scotland and Ireland in the coming decades.
Speaking at the conference, Professor Gerry Boyle, Teagasc Director, said: "In the context of the debate on the long-term sustainability of our food and farming systems, the environmental impacts of current livestock production systems and the human health and nutritional benefits of livestock products are coming under increasing scrutiny.
"While being fully aware of the urgent need to address these large-scale challenges right throughout the livestock food chain from production to consumption, it is also important to recognise that livestock plays a positive role in providing high-quality protein, minerals, vitamins and other essential nutrients in the human diet, as well as other essential environmental, economic and social roles in a variety of farming systems throughout the world."
Professor Wayne Powell, Principal and Chief Executive of SRUC, said: "There are opportunities to further improve the sustainability of livestock systems, improving the efficiency of conversion of feed into protein, together with understanding the breeding and genomics of feed conversion efficiency. Together these hold considerable promise to reduce significantly ruminant GHG emissions and enhance the vibrancy of the pastoral economy in both Ireland and Scotland. There is an opportunity for both countries to showcase the potential of livestock as a cornerstone of an agri-food circular economy that has both the consumer and environment at its heart."
Posted by SRUC on 06/12/2019