John "overwhelmed" after winning Agricultural Communications Award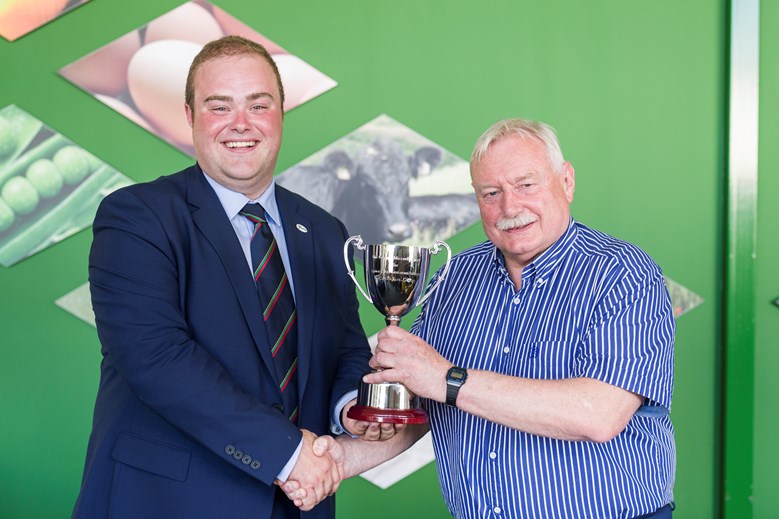 John McCulloch, the first winner of the Fordyce Maxwell Award with Wayne Powell, Principal and Chief Executive of SRUC
A former student of SRUC says he is "overwhelmed and honoured" to be the first recipient of the Fordyce Maxwell Award for Agricultural Communications.
Trainee auctioneer John McCulloch, who graduated with an HND in Agriculture at SRUC's Edinburgh campus in 2021, was presented with the trophy by SRUC Principal Professor Wayne Powell at the Royal Highland Show.
The 24-year-old from Kirkcudbright, Dumfries and Galloway, won for his "dedication and focus in promoting Scottish agriculture through written and video communication", particularly in his work to promote the sustainable credentials of the Scottish beef industry.
He said: "I am overwhelmed and honoured to be the first recipient of the Fordyce Maxwell Award. 
"Communicating what we do as an industry has never been more important, especially with the rise of disinformation and the speed at which that disinformation can travel throughout the public domain. 
"Fordyce was one of the best communicators that the agricultural industry has ever seen, and I am extremely proud to receive this award. 
"I would like to recognise the many great communicators we have within our industry and urge everyone to continue to work together and share the facts about the important work we do as a sector."
Prof Powell said: "Many congratulations to John on this excellent achievement. Fordyce Maxwell spent more than half a century reporting on and promoting the agricultural industry, so it was very fitting that we name our new award in his honour."
Conceived by Agriculture Lecturer Craig Davidson, the award was named in memory of Fordyce as the late journalist's son, Tom, is SRUC's Communications Manager.
Fordyce, who died in October, spent many years as Agricultural and later Rural Affairs Editor at The Scotsman, where – among other roles – he was also Diary Editor and a columnist.
In between two separate stints at The Scotsman, Fordyce returned to full-time farming, when he also had regular columns in The Herald, The Sunday Post and The Journal – among others – and hosted his own segments on BBC radio and television. He was awarded an MBE for services to journalism and a Lifetime Achievement Award from the Scottish Society of Newspaper Editors.
The award was open to current students and those who had graduated no earlier than 2018.
Posted by SRUC on 23/06/2023