Grant to fund research into mental wellbeing in vet industry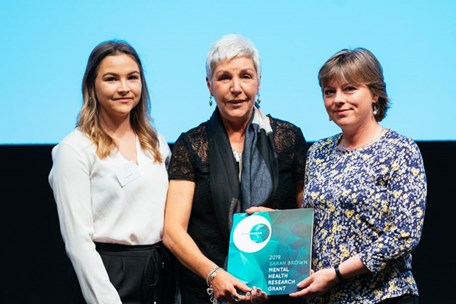 "Dr Kate Stephen, right, receives the Sarah Brown Mental Health Research Grant from Sarah's sister Sophie and mother Fiona"
Scotland's Rural College has received a £20,000 grant for research focussed on mental health and wellbeing within the veterinary professions.
The Royal College of Veterinary Surgeons (RCVS) Mind Matters Initiative announced that SRUC had received the inaugural Sarah Brown Mental Health Research Grant.
The grant was named after an elected RCVS Council member who passed away in 2017. It provides £20,000 worth of funding for research focussed on mental health and wellbeing within the veterinary professions, including areas such as prevention, diagnosis, intervention and treatment.
Professor Stuart Reid, Chair of the Mind Matters Initiative, said: "While nothing can replace Sarah, I am glad that, with the blessing of her family, we have been able to launch these grants and, indeed, find a worthy recipient.
"We were very impressed with SRUC's proposal because it focussed on farm animal veterinary sector, an area of practice that can be harder to address when it comes to mental health support, but which has significant challenges that research has demonstrated can put strains on the mental health and wellbeing of veterinary surgeons.
"For example, some farm vets have cited isolation, the challenging nature of some aspects of the job and the great responsibility it carries for the livelihood of farmers and rural communities as being particularly stressful.
"The SRUC research has the very laudable aim of identifying how to better promote job satisfaction and to break the cycle of negative thoughts and poor mental wellbeing identified amongst farm vets, and so we are very glad to have made this award to the team. It's only by improving the veterinary mental health evidence base that we will be able to hone the interventions and support that is available to members of the veterinary team."
Dr Kate Stephen, a Behavioural Scientist at SRUC's Epidemiology Research Unit, will lead the project and undertake the majority of qualitative data collection and analysis.
She said: "It is an honour to be awarded this grant. We hope our project will make a positive contribution towards understanding and improving the mental health and wellbeing of individuals in the veterinary profession."
Based on the output of the research, which will comprise qualitative data gathering and workshops, at least one tool will be selected for development as a web application, which will be made available for testing in the final phase of the project.
The team at SRUC has been invited to present its research findings at the biennial Mind Matters Initiative Research Symposium in 2021.
Posted by SRUC on 16/07/2019