Good vibes in tickled rats are contagious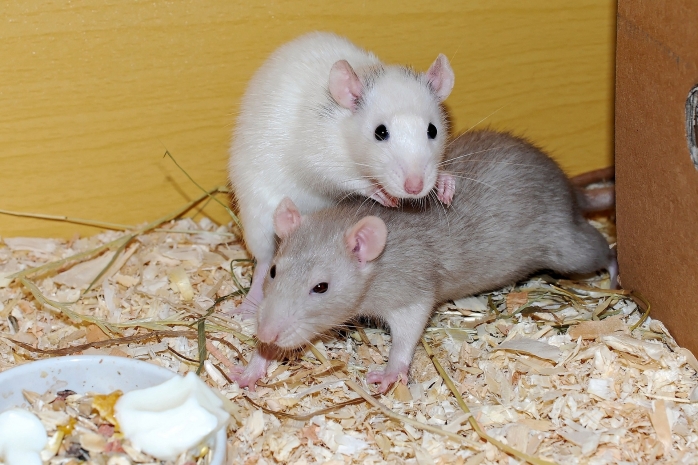 "Rats engaging in social play"


Just as laughter is contagious in humans, the positive mood induced in rats when tickled can be catching.
Animal behaviour researchers investigating the relationship between tickling and play in rats have found that rodents show excitement in the five minutes before being tickled – by leaping and bounding like lambs.
For the first time, a study led by PhD student Tayla Hammond at Scotland's Rural College (SRUC), has found this excitement is also passed on to their non-tickled cage mates – who then show more interest in the 'tickling hand' when first introduced to it.
Rat tickling was developed by scientists nearly 20 years ago to mimic the rough and tumble social play between rats. It is used in animal behaviour science to develop indicators of happiness in animals.
The scientists studied the behaviour of the rats five minutes before they were either tickled or not, for a total of ten days (with a two-day break halfway through).
They also recorded the high pitched sounds – ultrasonic vocalisations (USVs) – made by the rats during handling and measured whether these were positive or negative.
Tayla said: "The purpose of tickling is to generate a positive mental state in rats. Much like when you tickle a child, when you tickle a rat, they produce sounds which are also produced during other experiences we think are positive for rats, such as during play and receiving a tasty food reward.
"We found rats are excited to be tickled, with solitary play ­– leaps and bounds like a lamb – increasing in tickled rats in the five minutes before tickling.
"This is the first paper to suggest that the positive mood induced by tickling is contagious – non-handled cage mates of tickled rats showed more interest in the tickling hand when first exposed."
The research, which was published by Applied Animal Behaviour Science, will contribute towards developing a concept of what a good life for animals looks like – something that is central to the Farm Animal Welfare Committee's vision for animal welfare.
It was funded by the Biotechnology and Biological Sciences Research Council and the Scottish Government's Rural Affairs, Food and Environment Research Strategy and conducted as part of Tayla's MSc with collaboration from the University of Edinburgh, SRUC and INRA (France).
Posted by SRUC on 18/10/2019