From weeding to wedding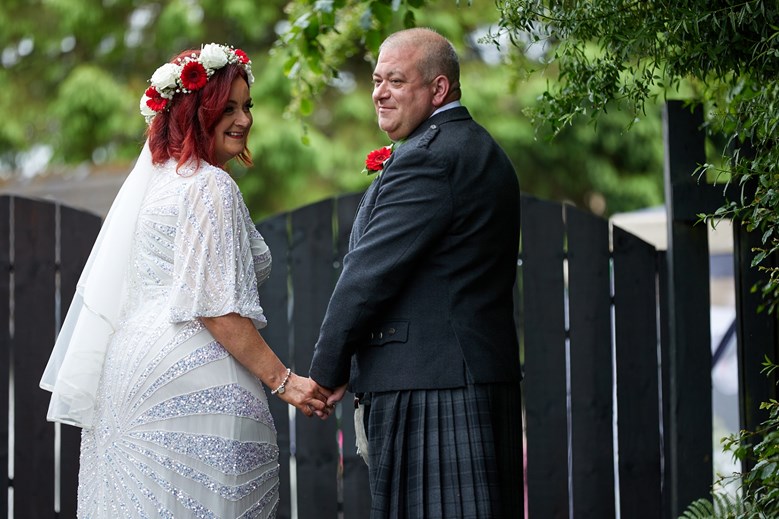 SRUC student Lynne Chapman and her husband David Fleming at their garden wedding.
When Horticulture student Lynne Chapman and her partner bought their cottage, they could not have imagined that within two years they would use the overgrown garden as their wedding venue – and appear on The Beechgrove Garden.
"The garden was a nightmare when we moved in," said Lynne, 49, who did a National Certificate in Horticulture with Garden Design at SRUC last year.

Lynne and David Fleming bought the cottage in Condorrat, Cumbernauld, in September 2019 and spent both lockdowns renovating it and the overgrown garden.

Having spent so much time on the garden, the couple decided to use it for their wedding in July.

When BBC Scotland was looking for viewers' gardens to film, Lynne sent them some before and after photos of their project.

Several months later, following a phone call and a further exchange of images, a TV crew from The Beechgrove Garden came out to film for an episode which will air on BBC Scotland on Thursday (9 September).

For Lynne, who spent years working first in banking and financial services and then in jewellery shops in Glasgow and Edinburgh, returning to education to study Horticulture has been like a dream come true. 

"We are very lucky to have such a wonderful outdoor space and have spent many a night in the garden with the firepit and a glass of wine," said Lynne, who is now doing an HNC in Horticulture at SRUC's Oatridge campus in West Lothian.

"We have done so much since we moved in and are still planning more changes, including more decking and hopefully a new lawn at the back. 

"I have a large polytunnel in the garden and a greenhouse, and love growing plants from seed - although now I seem to have lots of plants." 

For more information about studying at SRUC visit our course catalogue.
Posted by SRUC on 06/09/2021